Baldwin City's advance voting goes for Mock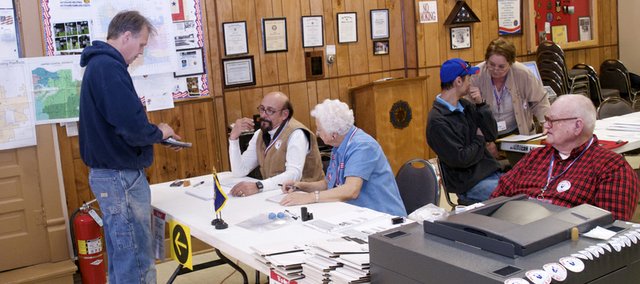 The first votes for this year's city/school board elections have been counted in Baldwin City and USD 348.
The Douglas County Clerk's Office released advance voting figures with the closing of the polls at 7 p.m. today.
The results show a close election in the only contested USD 348 board race. In the contest for the District 1, Position 1 seat, Gregory Kruger led Toby Ebel 42-39.
There was a wider gap in the other locally contested races. In the three-way race for two open Baldwin City Council seats Kathy Gerstner secured the most advance votes with 48, Christi Darnell was second with 37 and Michael Paulick third with 11. The top two finishers will be sworn onto the council May 6.
In the contest for mayor of Baldwin City, Jason Mock won the advance voting with 32 votes, Marilyn Pearse was second with 22 and Bonnie Plumberg third with 9.
Mayor Ken Wagner said earlier today he would meet with the mayor-elect over the next month to help ensure a smooth transition.
"I have told all three candidates individually that I would be happy to help in whatever way I can to help them as they settle into the new role," he said. "They all have seemed appreciative of the offer. I have told them that I don't intend to get involved in things unless they need my assistance. So, I am prepared to do whatever he/she wants me to do."
All three Baldwin City polling sites reported slow but steady voting throughout the day.
Precinct 61 at Baldwin Junior High reported at about 6:45 p.m. that 177 voters had filled out ballots. The number was slightly higher at Precinct 60 at the Baldwin City Fire Station, where 190 residents voted of the 1,190 registered. Precinct 62 at the American Legion reported even 200 of its 1,351 registered voters had cast ballots by 7 p.m.