Baldwin City Council agenda, April 1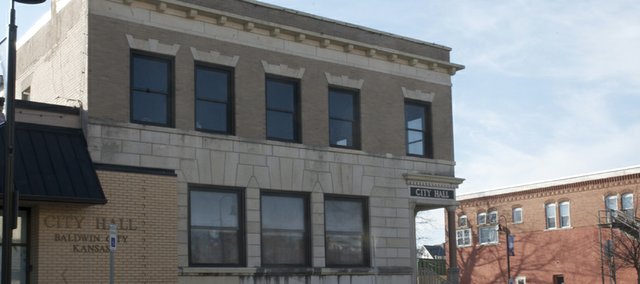 I. Call to Order: Mayor Ken Wagner
II. Consent Agenda: (All matters listed on the Consent Agenda are to be considered under one motion and will be enacted by one motion.

There is to be no separate discussion on any Consent Agenda Item. If discussion is desired by an elected official of the City on any Consent
Agenda item, then that item will be removed from the Consent Agenda and considered separately).
A. Consider the draft minutes of the March 18, 2013, Regular Meeting.
B. Consider Appropriation Ordinance No. 2013-4A: claims against the City for goods provided and
services rendered.
C. Consider a Proclamation declaring Friday, April 26, 2013 to be "Arbor Day" in Baldwin City.
D. Designate Mid-America Bank and Kansas State Bank as official depositories of the City of Baldwin
City, in addition to Baldwin State Bank.
III. Committee/Commission Reports
A. None
IV. Special Reports or Presentations
A. Review Sculpture Design Submissions
B. Update on Sister Cities International Request & Research (Collin Bielser)
V. Unfinished Business

A. None

VI. New Business
A. Consider Ordinance No. 1294: Rezoning property in the 100 Block of First Street from the Planned
General Commercial District (CP-2) to the Planned Multi-Family Residential District (RP-3)(Tina
Rakes)
B. Consider Authorizing the Mayor to Execute a Contract with Zimmerschied Architecture for the
Library Expansion Project. (Chris Lowe)
C. Consider Approving the Addendum to the Ottawa Sanitation Service Contract to Accommodate
Curbside Recycling. (Brad Smith)

D. Consider Authorizing the City Administrator to Execute an Annual Support Agreement with the
Chamber of Commerce. (Chris Lowe)