Brown, defense key Baldwin win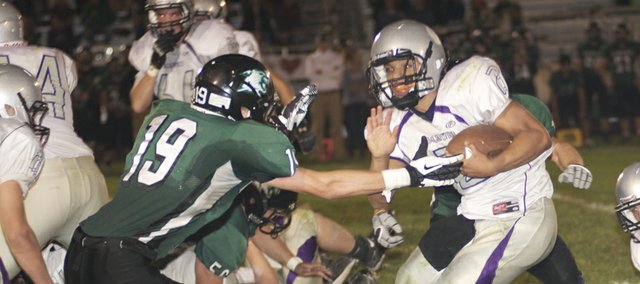 Baldwin's do-everything junior Cornell Brown responded Friday when asked to do something more.
Moved to quarterback from his usual flanker position for the Bulldogs' game against De Soto with the injury to senior starter Tyler Cawley, Brown had 39 carries for 231 yards and two touchdowns. On defense, he added an interception and broke up a pass in Baldwin's 19-6 victory at De Soto.
Baldwin scored first when Brown scored from a yard out with 6;10 to play in the first quarter. Brown set up the touchdown with 48-yard run to the 1-yard line two plays earlier. He also provided the clinching touchdown with 51 seconds remaining in the game with a tackle-busting 15-yard run.
The Baldwin defense also stepped up, allowing the Wildcats no offensive points. De Soto's lone score came on a 45-yard run after a fumble recovering by senior defensive lineman Austin Reinertsen with 5:25 to play in the third quarter, which briefly tied the game at 6-6.
Baldwin responded with a six-play, 70-yard scoring drive. Freshman Jake Katzer started the drive with a 39-yard run and ended it five plays later with a 13-yard touchdown run, putting the Bulldogs back in front, 12-6.
Baldwin 19, De Soto 6
Baldwin (3-2) 6 0 6 7 - 19
De Soto (1-4) 0 0 6 0 - 6
Scoring: Baldwin, Cornell Brown 1-yard run (kick failed); Jake Katzer 13-yard run (kick failed); Brown 15-yard run (Austin Kraus kick)
De Soto, Austin Reinertsen 45-yard run off fumble recovery (kick failed)