Baldwin volleyball team's late surges not enough on Dig Pink night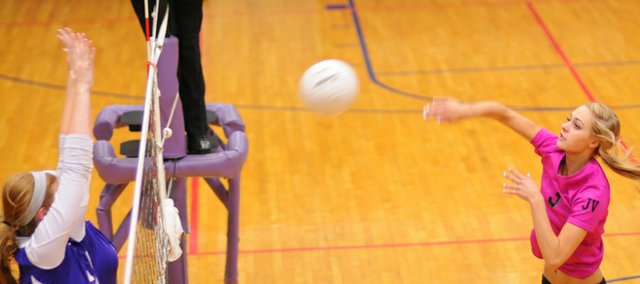 The Baldwin High School volleyball team mounted a series of furious comebacks but couldn't overcome bad starts in a three-set loss Tuesday to visiting Louisburg (24-26. 27-29, 22-25).
It was the third-straight home loss for the team, which will now travel Saturday to Wellsville for tournament play.
The Bulldogs faced Louisburg in August in the season-opening Frontier League Invitational Tournament, losing in three sets in what coach Jill Brown said was the team's only bad outing in that event.
On Tuesday, the Bulldogs were much more competitive but continually put themselves in early holes they couldn't overcome with solid play inspired by a loud Dig Pink home crowd.
"It was another great atmosphere for high school volleyball," Brown said. "We haven't been anywhere that even comes close to having the support that we have here at Baldwin."
In set two, Baldwin trailed 13-20 before tying the game at 24 and eventually losing 27-29. In the third set, the Bulldogs were behind 13-20 before closing to 22-23, only to lose 22-25.
"I was really proud of the way the girls fought back in both sets, staying aggressive and attacking the ball," Brown said. "Rally scoring makes it really difficult to come back from that much of a deficit that late in the set against a strong team like Louisburg."
The Bulldogs' middle hitters Alexia Stein and Morgan Lober were impressive, Brown said. Both had a hitting efficiency of better than .500. Stein had nine kills with one error, and Lober had five kills and no errors, the coach said.
Brown said she was eager for the Wellsville tournament and the chance to once again play multiple matches in one day.
"We've played well in the two tournaments we've been to," she said. "I like the chance to play more games. I'm ready to play again."