Noteworthy leaders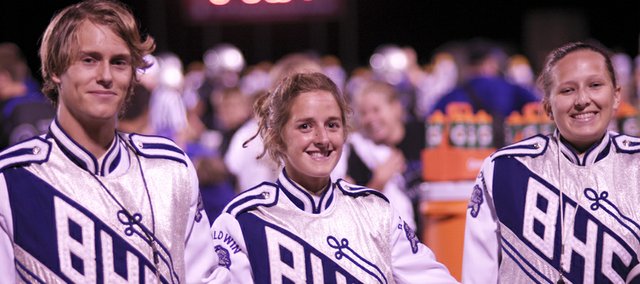 On a recent gray morning, the Baldwin High School marching band gathered outside to practice its halftime routine of music and marching.
The cool north wind sweeping across the practice football field giving a strong hint of fall didn't help students concentrate on the task of playing their instruments and correctly stepping through the routine they were learning, especially with many dressed in shorts and T-shirts that were suddenly out of season.
"Boys and girls, this isn't rocket science," band director Will Cooper said, as the students struggled with routine's correct pace, spacing and direction.
Cooper, however, had help as he attempted to get through to the band. Drum majors Max Combest and Katelyn Johnson were roaming up and down the lines, offering advice, criticism and encouragement. A third drum major, Abby Clem, was absent that morning with a Girl Scout commitment
The drum majors' efforts on the chilly morning were an example of how he relies on them, Cooper said.
"I depend on them for a lot of leadership things," he said. "I look at them as assistant band leaders. They run rehearsals, direct marching and take their turn on the podium. It's their job to fix things and smooth things out."
Cooper has two very experienced hands in Clem and Combest, seniors who have been drum majors since their sophomore years.
"There were no juniors that year who wanted to try out," Clem said.
She and Combest decided to fill the leadership gap. It sometimes was awkward to call out older students as sophomores, but the two said they were fortunate to be part of a large sophomore class that was very serious about the band. Besides, Combest said, they had a built-in advantage.
"Being on the podium, it's hard not to obey us," he said.
Calling band members to account is part of the job, and the three drum majors said they've developed their own approach to the task.
"I try to be conversational," Combest said. "If I see someone with inappropriate shoes, I might ask, 'Why don't you wear different shoes?'"
Or, as Clem said, the drum majors played the good cop to Cooper's bad cop.
With the important role drum majors play, a great deal of thought goes into their selection, Cooper said. Applicants are interviewed as he looks for students who have good musical and people skills and have the respect of other band members. Sometimes he involves others in the school in the selection, but much is based on his personal knowledge of the students, which can trace back to their introduction to the band in the fifth grade.
Cooper also knows that appointing a band member to drum major removes one of his best musicians from the band.
"It is a concern," Cooper said. "Two of the drum majors play the flute (Clem and Combest), and that isn't that important an instrument in a brass band. But Katelyn plays the French horn, and that's a very important instrument."
The band's marching season to date has been limited to the Kansas University Band Day. Rain washed out its first home game performance, and homecoming activities kept it from doing a routine at Friday's game.
But all that soon will change. As always, the band will march in the Maple Leaf Parade, and compete in the Oct. 17 Baker University band festival. And, of course, it has two remaining home football games left on the regular-season schedule.
At the last of those — an Oct. 19 game against Santa Fe Trail — the band will perform a Latin music routine it has been practicing. The set will include "Evil Ways" by Carlos Santana, "Estancia" by Jay Dawson and a two-song medley that concludes with a traditional bullfight tune, Combest said.
The band is ready for the busy month ahead, Combest said.
"I think we sound very good," he said. "We have a really good freshman class."
When the marching band season ends, the drum majors will lead the pep band for basketball games and assume their senior section positions in the school's concert band.
Looking beyond this year, Combest said he would probably attend KU, and Clem is still weighing her college options. Although the seniors don't intend to be in a marching band on the next level, junior Johnson said she would try out for a college band.
All, however, think their drum major experience will help as they continue with their education and careers.
"It looks good on a résumé," Clem said.
That, Cooper said, was one of the selling points of the position.
"I think anything you can have that says you've achieved a school leadership position is helpful," he said. "That's exactly what colleges want. They want someone who will contribute to the school."
´