Baldwin City Council complete visioning 2020 exercise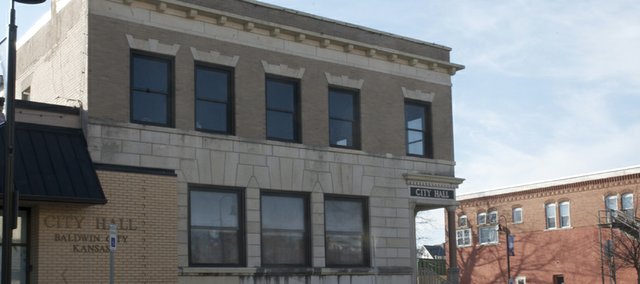 A visioning study released last week foresees Baldwin City becoming by 2020 a destination for new residents, visitors and jobs and the city enjoying a quality municipal workforce and improved infrastructure.
City Administrator Chris Lowe's summary of the Baldwin City Council's summer-long 2020 visioning exercise was presented at the Sept. 17 Baldwin City Council meeting. It concluded the council's effort to develop goals and strategies to guide the city for the next eight years. The visioning exercise started with a council retreat in May led by consultant John Divine, a former Salina mayor and city councilman, and continued with discussions at council meetings during the summer.
Mayor Ken Wagner said too often council members get bogged down with immediate needs and problems. The point of the visioning exercise was to establish overarching goals the current council and those that follow in the next eight years should keep in mind when approving projects or budgets, he said.
"It's aggressive, but I think it needs to be," the mayor said. "Hopefully, it will become a road map for this and future councils."
The road map concept was present within Lowe's summary. He wrote: "This document should be used dynamically to analyze priorities and to ensure consistent decision-making with respect to making the vision become reality."
The council's vision sees the city becoming a premier bedroom community, which attracts residents and visitors through the arts and local historical assets. But it also assumes Baldwin City will have commercial and industrial opportunities with the completion of the Burlington Northern Santa Fe intermodal in Edgerton.
The visioning exercise produced three primary goals. They are:
• Make Baldwin City a destination city, which was definedas a premier bedroom community that people want live in and visit.
• Support job growth.
• Invest in the city's work force and infrastructure to provide a high level of service to residents.
The report further proposed strategic steps to realize those three primary goals by 2020 and actions to be taken in the next year to 18 months to start making progress.
For example, it is suggested the city take strategic advantage of partnerships with Baker University and the Lumberyard Arts center to create a vibrant arts culture and with the Lawrence and Douglas County Chambers of Commerce and commercial real estate firms to promote economic development.
The report also sets spending priorities. Those include specific expenditures during the next year to 18 months — such as $50,000 for the design of a gateway or signage at the city's entrances, $10,000 in grant awards for downtown façade upgrades — and longer term investments in employee salaries and technology that will allow the city to provide a high level of service and amenities that will attract residents and visitors.
With the council's acceptance of his report, Lowe said he would now start meeting with city staff about implementation of action steps.