Baldwin downs Paola, 5-1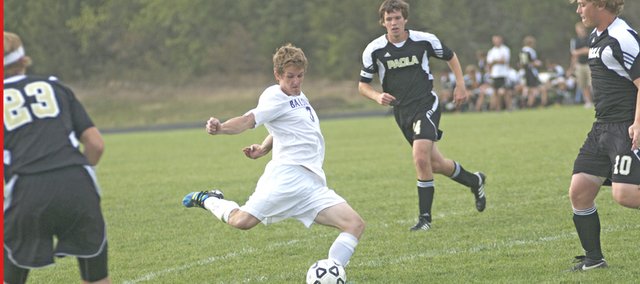 Baldwin gave up a goal for the first time in five games but otherwise dominated Paola to earn a 5-1 win Tuesday.
The win, the soccer team's fifth straight, improved its record to 8-1 and kept it in the thick of the race for the Frontier League title.
The Bulldogs jumped out to a 3-0 lead with junior Russell Cloon scoring the first two goals, the first on a corner kick and the second when he outran his defender and beat the Paola defender to a ball in front of the goal. Joel Dixon scored Baldwin's last goal of the half off a corner kick with 6:20 left in the period.
Paola scored the final goal of the half about 90 seconds later and, in doing so, became the first team to score on Baldwin in five games.
The goal came on a penalty kick in the box. Goalie Mason Bandre was able got a leg on the kick but was unable to make the save.
The goal was but one of the aspects of the team's first half play that irked left coach Mark Joslyn.
"It's unfortunate," he said. "We just shouldn't have let them get that so close the goal.
"I felt we played better the second half — side-to-side passing, a lot more deliberative and then going to goal instead going straight to the goal like the first half. I like that a lot better."
The Bulldogs added two goals in the second half, with Nick Joslyn and Dixon scoring off nice assists. Baldwin had numerous other chances off corner kicks and their offense that went just wide of the goal in the half.
"We were getting a lot of pressure up top so they gave us a lot of set pieces and opportunities," junior Nick Joslyn said. "We had some corners we got to take — we have to work on those."
Up next for Baldwin is a Tuesday trip to Spring Hill. The Broncos and De Soto tied earlier this week, giving Baldwin a chance to put itself in the driver's seat in the league with a win.