Baldwin school board sets date for
BJHS

auditorium public info meeting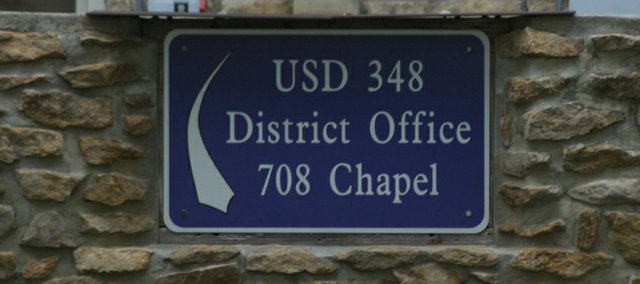 Baldwin USD 348 patrons will have the chance to learn more about the possible reuse of the Baldwin Junior High auditorium at an informational meeting next month.
The Baldwin school board agreed Monday to schedule a meeting for 5:30 p.m. Oct. 10 in the junior high auditorium. The meeting will begin with architects from DLR Group giving an overview of renovation options. Patrons then will have the opportunity to express their opinions, including whether the district should go ahead with the renovation.
The auditorium was made redundant with the opening a year ago of the new Performing Arts Center in the junior high. The school board has discussed possible reuses of the facility for the past four months. The board has the option of using about $600,000 remaining in the 2008 bond issue for the project.
That discussion led to DLR architect Kevin Grieshar volunteering to develop renovation options, which were shared with the board in June. The options, estimated to cost from $475,000 to $800,000, would all provide two new classrooms, a junior high band and music room, a weight room and cheerleading and wrestling practice areas. They differed in how much of the current stage and its storage area would be remodeled.
Those plans will be adjusted based on meetings last week between the architects and Baldwin junior and high school staff. The adjusted plans will be ready for the Oct. 10 meeting, USD 348 Superintendent Paul Dorathy said.
Last month, high school wrestling coach Kit Harris told the board he preferred the district maintain the wrestling practice facility in the South Gym on Chapel Street rather than move it to the renovated auditorium. The board agreed Monday to hear what patrons had to say about that issue at next month's meeting before making a decision.
The board did vote Monday to have Premier Construction of Kansas City, Kan., repair the leaking South Gym's flat roof for $8,000. The repair should last from five to eight years.
The board also unanimously accepted a $15,627 bid from Gateway of Springfield, Mo., for 29 video cameras to be placed on district school buses to monitor student behavior. The bid was the lowest of six received and about $5,000 less than a Gateway's bid from a year ago when the district first considered installing video cameras on buses.