Baldwin city council approves permit for
RV

park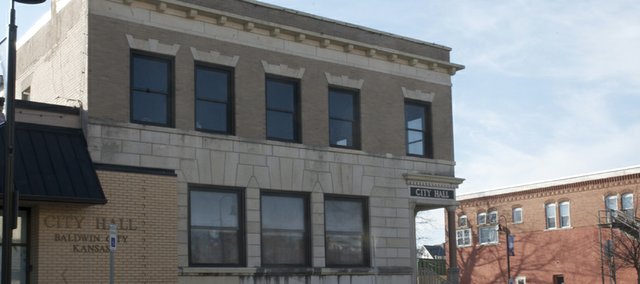 The Baldwin City Council approved Monday a conditional use permit for The Lodge to add a 10-pad recreational vehicle park to the motel at 502 Ames.
The council also approved companion requests from the motel's owners Ted and Peach Madl to vacate the right of way for sections of Jasper and Kibbee streets that run through or along the property line of The Lodge. All measures were approved by 5-0 vote.
The conditional use permit and the request to vacate the portion of Jasper Street came to the council with the Baldwin City Planning Commission's recommendation of approval. However, the council voted to override a planning commissioners' recommendation to deny the request to vacate Kibbee Street.
The planning commission had a public hearing on the permit in August, at which neighbors voiced concern about increased noise, lighting and traffic. Neighbors also worried about campers trespassing on their properties and the danger of outdoor fires.
To address those concerns, the Madls agreed to 18 stipulations to the permit. Among the requirements are the planting of trees on its north and east border to screen the RV park, limiting stays to 28 days, banning open fires and no music, noise or lights after 11 p.m.
Although a number of neighbors attended Monday's meeting, Peach Madl was the only person to address the council about the permit. The park's market would be those attending Baker University events, the Maple Leaf festival or seniors with relatives in Baldwin City, she said.
Madl said the RV park at the site would be different from those in most communities, which are located on the outskirts of towns. The central location would allow campers to walk to Baker University, downtown and other stores in Baldwin City, she said.
That would provide an economic benefit to the city, a fact recognized by the Douglas County Commission and the Kansas Department of Commerce, both of which approved use of tax credits to help finance the project, Madl said.
"This is the least intrusive use we can think of for this commercial ground," she said.
Madl said the right of way vacations were needed to make the project work.
With the right of way vacation of Jasper Street, ownership of the property will revert to the Madls. They will receive the southern 40 feet of the Kibbee Street right of way, and Baldwin USD 348 will received the right of way's northern 40 feet.
The city will maintain utility easements in the vacated right of ways.
Planning Commissioner Mike Grosdidier explained to the council his opposition to the Kibbee Street right of way. He didn't want to set a pattern for future planning commissions and wasn't comfortable with giving away public property, he said. He was also concerned the vacation of the right of way could isolate one property, harming its future development potential.
Councilwoman Bonnie Plumberg balanced those concerns with the merit of the project.
"It's a piece of vacant property," she said. "It will be improved. It's going to be better."