Baker football team improves to 4-0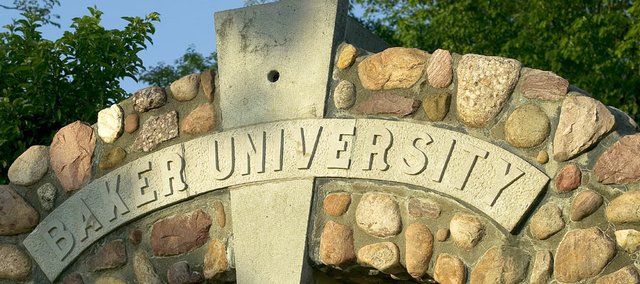 For the first time since the 2000 season, the Baker University Football team started the season 4-0 with a 24-14 win on the road at Central Methodist University.
Baker is now 4-0 overall and 3-0 in the Heart of America Athletic Conference and have won six straight over CMU.
Despite giving up 306 yards rushing and turning over the ball twice, the Wildcats now set up a clash of two undefeated teams with No. 5 Missouri Valley next week, as they take on the undefeated Vikings at 6 p.m. on Sept. 22 in a Black Out game at Liston Stadium. Fans are asked to wear black to the game next Saturday.
Junior quarterback Jake Morse returned to start for the Wildcats after sitting out the last two games with an injury. He continued where he left off, completing 12-of-18 passes for 254 yards and two touchdowns.
USC transfer Dillon Baxter had his best game in a Wildcat uniform with 94 yards rushing on 15 attempts with a 35-yard touchdown run in the third quarter, giving Baker a 21-14 lead.
Reggie Harris put the Wildcats on the board first with a 69-yard touchdown reception from Morse, putting Baker up 7-0 with 9:15 to go in the first quarter.
Burton Iosefa tied up the game with a touchdown run of his own from eight yards out with 3:31 left in the first.
With under a minute left in the first half, junior wide receiver Tyler Hatcher caught a four-yard touchdown pass, giving Baker a 14-7 advantage at the half.
Cleave Perryman then barreled his way into the end zone on a one-yard run to tie up the game with 11:03 left in the third quarter.
Baxter gave the Wildcats the lead with his touchdown just a few seconds later and senior kicker Steven Stewart nailed a 37-yard field goal with 7:16 to go to ice the game.
The Eagles fall to 1-2 on the year with the loss and Perryman ran for 176 yards on 25 carries for CMU and Iosefa had 82 yards on 12 carries. The Eagles only managed 33 yards through the air.
On defense, Adam Steele again led the Wildcats in tackles with 12 tackles, and Andre Jolly added 11 with 1.5 sacks.
Preston Schenck had six solo tackles and recovered a fumble. Junior linebacker Adrian Pearson had eight tackles and Jesse Campbell had seven.
Missouri Valley, 3-0, comes into Baldwin City next week fresh from a 55-6 home win over Avila on Saturday.
Next Saturday is also Family Day on campus.