Vinland woman gave 107 years of quiet contribution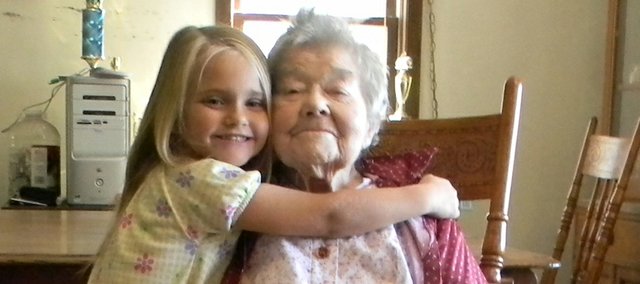 For years, Martha Smith contributed to the Vinland community in her quiet way.
Her work at the Coal Creek Library, Vinland United Methodist Church and elsewhere went mostly without comment until late her life, said her nephew Howard, Hemphill. One thing was certain: Smith wasn't going to call attention to it.
"She's not someone who talks about herself," Hemphill said. "She was a quiet woman who did a lot of things that went unnoticed until the attention on her age brought focus on some of those things."

On Saturday, Smith's age will once again call attention to the quiet woman as she celebrates her 107th birthday at Brandon Woods at Alvamar in Lawrence, where she has been a resident for about two months.
As Smith ate lunch Sunday, Hemphill went through a folder of materials on his aunt's long life, closely tied to family and the Vinland community. Its contents included accounts Smith wrote of her mother, father, husband and herself.
Smith was born to George and Kate Kelley on Sept. 15, 1905, on the Bittersweet Farm her family homesteaded in 1866 a mile south of Vinland. Hemphill explained the farm, on which he now resides, had two houses and was always home to a close-knit, extended family.
Smith writes of working on the farm as the oldest of four surviving daughters, Katharine Kelley, Anne Hemphill and Edith Strom. With the demands of an early 1900s farm, it mattered little that she was a girl — and a small one at that (she only grew to 5 foot 2 inches). Smith writes of sitting on horse-drawn farm implements, milking cows and having nightmares of climbing the ladder to the second floor of the barn.
As a farm family, the Kelleys were members of the Grange, an agricultural movement of the late 19th and early 20th century that advanced populist farm policies. Vinland Grange Hall, which still stands and is on the National Register of Historic Places, was a hub of the rural community's social life.
Although her mother and father were Grange members, Smith refused to join because, she wrote, it was a "secret society," a link to the Freemasonry of its founder. Nonetheless, she participated in such Grange social events as the annual oyster dinner.
She was also active at two other Vinland buildings on the national register, the Vinland Presbyterian Church and the Coal Creek Library.
Her father was an officer in the church, and Smith writes of Dr. James Naismith, the inventor of basketball and Kansas University coach, being the pastor. She joined the church at age 11 and starting teaching beginners' Sunday school at 16 years of age.

Smith continued to teach Sunday school after the Presbyterian Church closed, and she and the family joined the Vinland United Methodist Church. She would become the children's superintendent at that church and continue to teach Sunday school classes.
Keenly interested in missions, Smith delivered the church's weekly mission messages for years, which were known to be short and to the point. She gave up the task less than five years ago.
It is a trend in her life to stay with things a long time. Smith took a job as a librarian at Coal Creek Library at 26 years of age and was still in the part-time position in 2002, when she was recognized at the oldest worker in the state.
She married Cecil Smith in 1943, after both her parents died. Like her, he was a quiet person.
"It took him a long time to get up the courage to knock on my door to ask me for a date," she wrote.
Cecil had a number of health problems and didn't long survive retirement from his job as a Kansas University employee. Smith wrote that she bought a garden tractor when he retired, hoping he would stay active by joining her in working in the vegetable garden she always kept.
It was just one way she kept physically fit, Hemphill said. Smith had a regular exercise routine and took daily walks, which continued when she and her son Edwin moved to Baldwin City.
"Well past her 100th birthday, she still got out with her walker and walked a six-block square, much to the concern of her neighbors and local law enforcement," Hemphill said. "Her brand of fitness was important to her."
Smith's long and active life was not without medical hardships. She is a survivor of breast cancer and long suffered from a partial paralysis in an arm, which she mostly overcame with exercise, Hemphill said.
"Her good nature survived those health problem in her life," her nephew said. "She's a kind person. Certainly, she didn't have much, but she would give things to folks."