Girls on course for repeat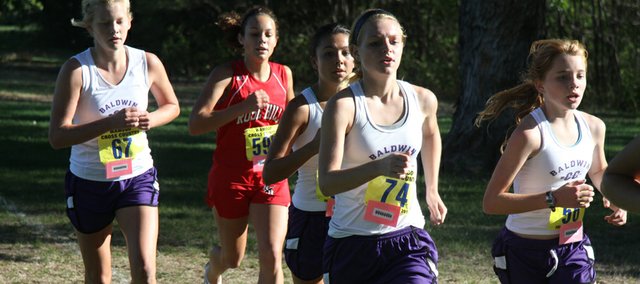 The Baldwin High School girls cross country team raced to a first-place finish Saturday at the Wamego Invitational, establishing itself as the team to beat when 4A reassemble on the course on Oct. 27 for the state meet.
As five-time defending state champions and the state's 4A top-ranked team, the Baldwin girls didn't surprise anyone with their performance at the meet that draws the top teams in the state for the opportunity to get experience on the state finals course. But they nonetheless turned in head-turning results with all six varsity girls among the first 21 runners to cross the finish line.
Of the 4A teams ranked in the coaches' poll, only Paola wasn't at Wamego. Ranked teams there included No. 2 Topeka-Hayden, No. 3 Maize South, No. 5 St. James Academy, No. 6 De Soto and Wamego and Rose Hill, both No. 7.
The boys team finished fifth in a similarly loaded field. Top-ranked Wamego was first, fourth-ranked Mulvane second, second-ranked De Soto third and third-ranked Hugoton fourth at the meet Saturday.
"I was very pleased with out performance," coach Mike Spielman said. "It was against good competition on a state course. We gained some valuable experience to use in the future."
Leading the girls for the second-straight week was senior Kaitlyn Barnes, who finished second with a time of 16:19.91. Junior Katie Jones was next across the line for the Bulldogs, earning a 11th-place finish with a time of 16:36.30. Other Baldwin finishers were freshman Addie Dick, 14th (16:44.82), Libby Verhaeghe, 17th (16:49.81), Fayth Peterson, 18th (16.50.76), and Sienna Durr, 21st (17:03.32).
For the boys, junior Ethan Hartzell finished fourth with a time of 16:39.31. Sophomore Joe Pierce was the 10th runner to cross the finish line with a time of 17:25.15. Other Bulldog finishers were freshman Dakota Helm, 26th (18:04.66), freshman George Letner, 33rd (18:18.74), junior Tucker Clark, 52nd (18:59.19), freshman Zac Smith, 69th (19:28.08) and senior Colton Horne, 75th (19:41.78).
The Bulldogs will host the Baldwin Invitational on Saturday at the Baldwin Municipal Golf Course. The girls race will start at 9 a.m.