Baldwin falls to Paola to end up-and-down volleyball week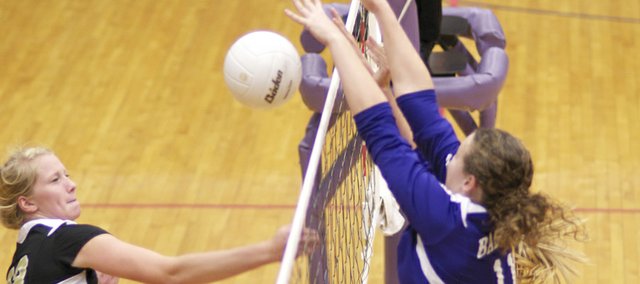 The Baldwin High School volleyball team ended a busy, up-and-down week with a three-set loss Tuesday to Paola (19-25, 19-25, 21-25).
The Bulldogs began the week Thursday at Tonganoxie, where the team lost in five sets. Between that match and the one against a 12-4 Paola team on Tuesday, the team hosted the Saturday's Baldwin Invitational Tournament, earning four wins against two losses.
Coach Jill Brown said the Bulldogs played their best volleyball of the week in the tournament. The difference between its play Saturday and the two matchups that bookended it was the number of unforced errors, particularly in the passing game.
"We're a strong hitting team," a disappointed Brown said after Tuesday's loss. "When we don't pass very well, we don't do well.
"I feel like we're a good receiving team. We just made a lot of unforced errors."
Brown was more pleased with her team's play Saturday. The Bulldogs went 2-2 in pool play and 2-0 in the consolation bracket.
"It was a good tournament for us," the coach said. "We played Gardner, a top 6A volleyball school, really well. We stayed aggressive throughout the match, which you have to do in a team like that."
Jordan Hoffman was aggressive Saturday, getting 49 kills with only 12 errors and had 20 kills with no errors in bracket play in 27 attempts. Morgan Lober finished with 31 kills, and Katie Kehl had 10 aces. Alexia Stein had eight blocks , and Corey Valentine and Katie Pattrick set up the hitters with 65 and 50 assists, respectively.
Monday's loss dropped the Bulldogs record to 9-8. The team will have a week off before playing Tuesday at home against Ottawa.