Food: Area farm's hydroponic lettuce growing in popularity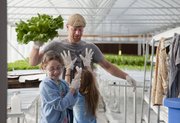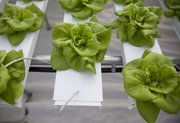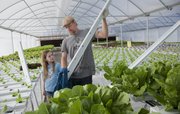 Just because a greenhouse shelters produce from the elements doesn't mean hydroponic farming is easy.
That's one of the first myths that Ryan Eddinger would love to dispel. While you can control variables, the downside is that you must control them — and the balance is tenuous and labor intensive, more sterile science project than backyard garden.
"We're in control of everything," Eddinger said. "With hydroponics, if you screw up, you find out real fast. You don't have any buffer."
Eddinger and his wife, Caroline, operate Two Sisters Farm — named for their two daughters, 10-year-old Stella and 8-year-old Sophia — at their home in rural Lecompton.
The Eddingers specialize in "living lettuce," full heads sold with roots attached. Theirs is the only commercial farm in the area specializing in hydroponics, or soilless growing, and their lettuce has been catching on around Lawrence and Johnson County since their first harvest this spring.
When researching farming options, the Eddingers were looking for something that would produce all four seasons.
"We looked around at what people weren't doing, too," Caroline said. "Nobody was doing this, and so there's a market for it."
Eventually Ryan, full-time public defender for the Kansas Court of Appeals, and Caroline, who just started her own CPA firm, would like to farm full-time. Until then, there are late nights, early mornings, 16-plus-hour days and some much-appreciated help from neighbors.
"It's been insane," Ryan said.
Delicate balance
The Two Sisters greenhouse is light and pristine. Rows of richly colored heads of lettuce — from yellow-green to wine red — pop against the bright-white walls and growing trays.
There's lettuce in all stages, from sequin-sized sprouts to lush, leafy ready-to-harvest red bib and romaine.
An irrigation system carries fertilizer-laced water to each plant, delivering moisture and nutrients to roots while emerging leaves get sunlight through the greenhouse's translucent covering.
Ryan tinkered with an old air conditioner to fashion a system that keeps the water solution from getting too hot. To keep the climate from getting too hot, fans draw air through a "wet wall" at one end of the greenhouse. In the winter, propane heat will keep it warm.
He monitors everything daily.
A climate-control slip, pH imbalance or bug infestation could wipe out an entire crop.
Everyone entering the greenhouse wipes their feet on a towel soaked with solution to ensure their shoes are clear of insects. There are screens over all the fans to keep bugs from sneaking in. Ryan even wears rubber gloves when harvesting and transplanting the lettuce.
Pros and cons
Hydroponic gardening started getting a lot of interest about 15 to 20 years ago, said Jennifer Smith, the horticulture extension agent for K-State Research and Extension in Douglas County.
"The general idea was that because you're not using soil you can grow things in a smaller space," she said, "and it was kind of an interesting discovery that we can grow things without soil."
Smith said that while hydroponics may enable farmers to grow produce with less space, it can be labor-intensive to maintain the correct balances. Also, she said, some people argue that food grown in dirt has more flavor.
Ryan said he believes that's true with foods such as tomatoes (he prefers dirt-farmed heirloom varieties, hands down). However, he doesn't think that's the case with lettuce, which is a decidedly different type of crop.
"I'll never grow another head of lettuce in the dirt," he said.
Hydroponic growing enables him to leave roots on, which keeps the lettuce — a vegetable that's notoriously prone to wilting — flavorful and crunchy longer with no preservatives.
Hydroponic lettuce can mature weeks faster than outdoors, and the controlled environment also enables Two Sisters to keep its crops pesticide- and herbicide-free.
Plus, if Two Sisters is able to drum up enough customers, the Eddingers will be able to afford to run their greenhouse year-round, providing Lawrence with lettuce grown just a few miles away all winter long.
"That's one of the best things about local, it's going to be fresh," Ryan said. "The more local the better."
Growing customers
Right now, Two Sisters' living lettuce is for sale at three Lawrence grocery stores: Hy-Vee, Checkers and the Merc.
Two Sisters also supplies lettuce to several Lawrence restaurants, plus Raintree Montessori School and a couple restaurants in Johnson County (Renee Kelly's Harvest in Shawnee and Story in Prairie Village).
The Eddingers sell at Cottin's Hardware Farmers Market on Thursdays and the Downtown Overland Park Farmers Market on Saturdays — usually with the "two sisters" themselves up at 4 a.m. and in tow.
The family likes interacting with customers, hearing feedback and having the people who buy their lettuce see their faces and know their names, Ryan said.
Monday morning, he was harvesting and boxing up lettuce for 715 and the Oread, where he or Caroline would personally deliver it that day or the next.
T.K. Peterson, the Oread's executive chef, started ordering Two Sisters lettuce this spring, as part of a larger effort to incorporate more local produce in his restaurants.
There's a "hip factor" to eating local produce that customers like, Peterson said. He's had some problems with small farms that, for various reasons, aren't able to complete all their orders, but not Two Sisters.
"They meet your need pretty much every week," Peterson said. "They're able to control it a lot better than the standard outdoor farms."
In addition to quality food, Peterson simply agrees with supporting local farmers, he said. "You do it more just because it's the right thing to do."