Baldwin blows out Eudora, 9-0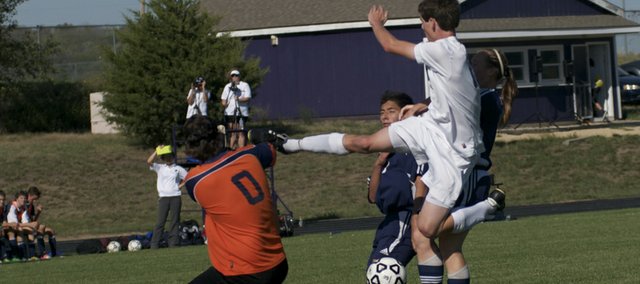 After playing five matches decided by one goal, the Baldwin High School soccer team blistered visiting Eudora, 9-0, Tuesday in Frontier League action.
"It was a fun game," coach Mark Joslyn said "We just hit everything we shot.
"The boys moved the ball well. It's nice to get an easy one."
The Bulldogs are now 5-1 overall and 3-1 in Frontier League play.
Two Baldwin players earned hat tricks in the match. Junior forward Russell Cloon scored all three Bulldog goals in the first half, and junior Nate Clem matched his feat in the second 40 minutes. Also getting in on the scoring derby were junior Duncan Murphy, senior defensive specialist Austin Kraus and senior goalie Mason Bandré. The two seniors got to move into forward positions in the second half as Baldwin freely substituted and placed players into unfamiliar roles.
"It feels good," Bandré said of his second career goal. "It's a nice change of pace from playing goalie all the time."
It was Baldwin's second straight shutout, having prevailed on the road last Thursday, 1-0, against Basehor-Linwood. Junior Joel Dixon scored for the Bulldogs on a cross for a first-half goal.
Senior captain Bandré said he was happy to see the team start strong the past two games.
"We're stepping up," he said. "We came out strong from the beginning. We're playing strong the last five minutes of the half, which is when goals were scored on us in the first two games."
The Bulldogs have been battling injuries. Bandré returned with a helmet after missing two matches with a concussion, Nick Joslyn did not suit up for Eudora and Dixon watched the game on crutches.
The team travels Thursday to Louisburg, a squad coach Joslyn expects to give his Bulldogs a tough match. He did not know if Dixon would return for the match. Baldwin returns home Tuesday to play Ottawa, which was undefeated entering Tuesday play.
"It will be a good match," Joslyn said. "They always play us tough."