Baldwin volleyball falls to Tonganoxie in five sets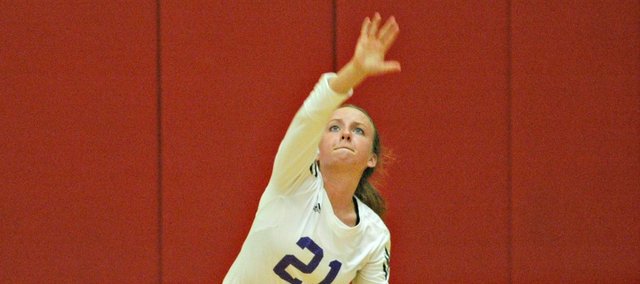 Tonganoxie — The Baldwin High volleyball team gave Tonganoxie all it could handle in Thursday's non-league matchup, but mishaps and late breakdowns ultimately left the Bulldogs just short of a victory.
BHS forced five sets and put itself in a position to clinch a win in the final set, but couldn't quite close the door and dropped the back-and-forth battle, 19-25, 25-23, 22-25, 25-18 and 14-16.
"What we said to (the players) is we need to take control when we can," coach Jill Brown said. "That's what I think we're not doing right now. We need to come in early on and not let it go to five because five at their home is not in our favor."
After splitting the first four sets, Baldwin jumped out to a 6-3 lead in the final set. However, Tonganoxie slowly started to chip away at the lead and later used a 5-1 run to go take a 12-10 advantage. Brown called a time out to give her team a chance to regroup, and the break nearly propelled the Bulldogs to victory.
BHS went on a 4-1 run out of the time out to give itself a match point opportunity, 14-13, but the Chieftains scored the next three points to extinguish the comeback attempt.
Service errors plagued Brown's squad all night, killing scoring runs and giving Tonganoxie momentum when it was struggling to get going offensively.
"I thought we worked hard, but things weren't quite falling our way and we were making a lot of unforced errors," Brown said.
Baldwin fell into a big hole in the first set, which THS opened on a 12-4 scoring burst. The Chieftains extended that lead to 24-14, but Baldwin scored the next five before dropping the set. BHS found itself on the wrong side of a 22-19 score in the second, but closed out the set on a 6-1 run to tie the match.
The Bulldogs nearly erased a six-point Chieftain lead with a 5-1 run late in the third, but came up just short. They had an answer in the fourth, though, as they jumped out to a 15-9 lead and held on to force a fifth set.
The five-set loss was the second straight for Baldwin, which dropped a 3-2 decision Tuesday at Spring Hill.
"We told them not to get down," Brown said. "We've just got to go to work (Friday). The main thing tonight was just limiting unforced errors and we need to be more aggressive. We're a big team and we need to be aggressive, but we were a little tentative tonight."
BHS will be back in action Saturday when it plays host to nine schools for its home tournament. The field includes Blue Valley Southwest, Bonner Springs, Gardner-Edgerton, Leavenworth, Osawatomie, Oskaloosa, Paola, Perry-Lecompton and Wellsville.