Baldwin cross country teams first at Anderson County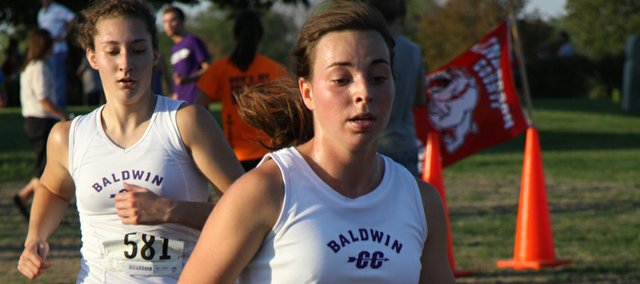 Baldwin High School cross country teams did what they trained and expected to do in their first meet of the year.
Last Thursday, the boys and girls teams finished first at the Jerry Howarter Invitational in Garnett.
"They have high expectations, and they've worked hard," coach Mike Spielman said. "We had a real good first meet."
Expectations are very high for the girls team, which is five-time 4A state champion. The squad returns a number of runners with multiple years of experience at the state finals, including seniors Kaitlyn Barnes and Sienna Durr and juniors Katie Jones and Libby Verhaeghe.
The boys team finished fifth at state last year and return junior Ethan Hartzell, who was runner up at state last year, senior Cordon Horne, junior Tucker Clark and sophomore Joe Pierce. They are joined on the varsity by three talented freshmen, Dakota Helm, George Letner and Zach Smith, who wasted no time in announcing their arrival.
Hartzell was the headliner of the Anderson County meet, winning the boys title with a time of 17:37.12.
"He ran really well," Spieman said. "He won by about a minute."
Freshman Helm was third in his first high school meet with at time of 18:39.84. Pierce finished ninth at 18:54.09, and Letner 10th with a time of 18:56.56. Other boys finishers were Smith, 20th, Clark, 26th, and Horne, 42nd.
The boys won the 10-team event with 37 points. St. James Academy was second with 58 points.
The girls also posted a relatively easy victory with 34 points. St. James was once again second with 55.
Pacing the girls were Barnes (17:01.11) and Jones (17:03.80), who finished third and fourth, respectively. Verhaeghe and freshman Addie Dick finished eighth and ninth. Three other Bulldog runners finished in the top 20, including Durr (11th), senior Glenn Kelley McCabe (13th) and freshman Fayth Peterson (14th).
Next up for the Bulldogs in the Wamego Invitational. Spielman said he expects a step up of competition for the event contested on the site of the state meet on the Wamego Country Club.
"Twenty-four 4A teams will be there," he said. "We'll find out how we stack up against the good teams because the teams that want to do well at state want to get experience on the course."