Baldwin City Council gives first approval to church conditional use permit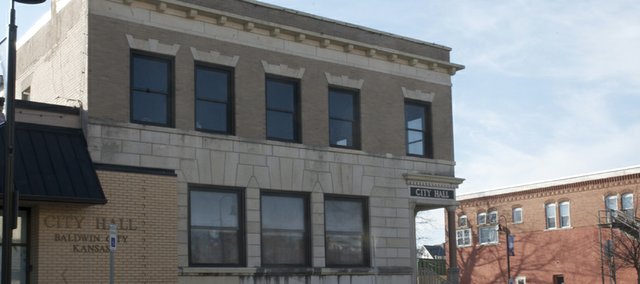 The Baldwin City Council gave first approval to two measures that will allow Lighthouse Baptist Church to relocate to the former elementary school on Chapel Street.
The Baldwin USD 348 school board in June approved selling the former school and its grounds to the church for $200,000. The sale had several conditions, including the rezoning of the property.
On Monday, the city council unanimously approved on first reading a request from the school district, which still owns the elementary school, to rezone all buildings on the north side of Chapel Street from Sixth to Eighth streets from R1-A to R1-B. It was explained at the meeting, the rezoning would eliminate non-conforming setback issues on the properties. City building inspector Tina Rakes said the new zoning would be consistent with that of surrounding properties.
The council also approved on a 5-0 vote the first reading of the Lighthouse Baptist Church's request for a conditional-use permit to use the old elementary school as a church and for church-related activities. Rakes said city regulations used to allow churches at any location in the city but that was changed in recognition that they do bring traffic, noise and other issues.
In response to a question from Councilwoman Bonnie Plumberg, Rakes said the church would add some paving to the north part of the property but most of the green space would be maintained.
The council is scheduled to vote on the second reading of the two measurers at its Sept. 17 meeting.
Also receiving the council's unanimous approval on first reading was an ordinance that would allow outdoor dining at downtown restaurants. City Administrator Chris Lowe said the measure was in line with a council goal to enhance downtown.
The ordinance was modeled on one in Lawrence and would require restaurants to submit a site plan and maintain American with Disabilities Act standards on sidewalks, Lowe said. The outdoor dining permits would be renewable yearly and have a $25 fee. Restaurants also would be required to lease the space they use at the rate of $1 per square foot (Lawrence charges $3.50 per square foot) and have an approved plan to cordon it off, Lowe said.
After the council approved updated traffic and offense ordinances, Police Chief Greg Neis said he would impose no parking on the south side of Monroe Street between Eighth and Ninth streets. The city has received complaints about the street being blocked when Kappa Sigma has parties, he said.