Five questions: Sweeps or scam?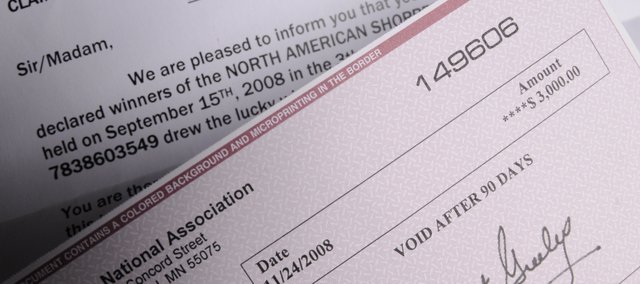 Below, Kansas Attorney General Derek Schmidt provides tips on avoiding sweepstakes scams.
Q: What is a sweepstakes scam, exactly?
A: Consumers are told they have won a prize such as cash or a cruise, television or electronic device. These folks are surprised to learn this because they do not recall entering the sweepstakes. Sadly, they are likely being scammed.
Q: How do I know if a prize offer is a scam?
A: Scammers will follow the exciting news that you've won with a request that you first send them money to cover taxes, fees, shipping or other costs — even though it's illegal in most places, including Kansas, to require purchases or the payment of fees and taxes upfront before you can receive a prize.
Q: Anything else to watch out for?
A: Scammers may send you a legitimate-looking check that is supposed to cover those so-called taxes and fees. But once you deposit the check and then wire the money back to them, the check turns out to be fake and any amount you advance the scammer will be lost.
Q: What can I do to prevent this?
A: Never give personal information, such as your social security number or bank account number, to someone you don't know who calls you or sends you an email or letter. Never agree to send money in order to claim a prize. Never deposit checks that come with a letter telling you that you "have won."
Q: How can I reduce the junk mail I receive in the first place?
A: Don't enter any sweepstakes or buy anything through a sweepstakes, and have your name taken off of mail marketing lists. Write to: Direct Marketing Association Mail Preference Service, P.O. Box 64, Carmel, N.Y. 10512.