Railfest returns Baldwin City to Age of Steam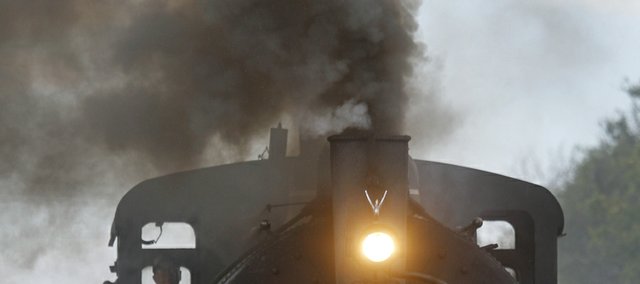 Ten-year-old Bella Otter thinks old things are awesome.
Decked out in Kansas University gear early Saturday afternoon, she was perky and excited to take a train ride with her family from Baldwin City to Norwood, her grandfather's idea.
"I've never been on a train before," she said. "An old one is cool."
The train she was on was pulled by "Sadie," a steam engine built in 1931 for the Lehigh Valley Coal Company. A ride in a steamer was a special treat for rail lovers at this year's Labor Day Railfest, put on by Midland Railways. That's because the last time a steam train came through Baldwin City was in 1952, said Ernie Griffin, a driver and special events coordinator for Midland.
Ray Macklous, of Lenexa, and Steve Cauble, of Overland Park, are transportation enthusiasts, frequent Amtrak riders and friends who brought their granddaughters, too.
"Steam isn't something you get to see very often," Macklous said. "It really takes you back a generation."
The more efficient diesel engines took over in the early 1940s, Griffin said, and the American heyday for passenger rail was gone by the end of the 1950s. But the privately owned tracks at Midland keep chugging forward with as many aboard as possible.
About 700 tickets had been sold as of Saturday afternoon, marketing director Allen Kinsley said. The Railfest continues today and Monday.