Baldwin downs Spring Hill to advance in playoffs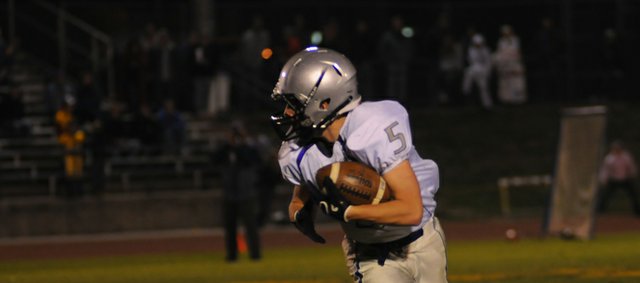 Spring Hill — The Baldwin Bulldogs avenged an early season loss, defeating Spring Hill, 31-14, to advance in the state 4A football playoffs.
In September, the Broncos handed Baldwin a 14-12 homecoming loss after jumping to a 14-0 first-half lead. Chad Berg, unable to play in that game because of an injury, made sure the Bulldogs would not get off to a slow offensive start in the rematch. Playing in only his second game since being sidelined with an injury in the season opener, the junior broke a 62-yard touchdown run for the game's opening score.
"We missed him," Baldwin coach Mike Berg said of his son. "He didn't show up Thursday night (against Eudora). I think maybe it was first-game jitters. We need his speed on the edge. It takes the pressure off Cornell (Brown) and Mark (Harman)."
The Bulldogs would find the end zone again in the first quarter when Brown finished a drive with a 3-yard touchdown carry.
But Baldwin was unable to keep Spring Hill from answering its first-half scores. The Broncos capped off two drives with short-yardage touchdowns from senior fullback Jacob McDade.
One positive similarity to the earlier game for Baldwin was the ability of its defense to shutout Spring Hill in the second half. The Bulldogs did so by forcing a fumble, getting a big red-zone fourth-down stop and an interception.
"We just played a very physical football game tonight," coach Berg said. "Their option is almost impossible to stop. We got a few breaks. Dayton Valentine just pulled that football out of their quarterback's hands and the momentum shifted right there."
Valentine's forced fumble gave the Bulldogs the ball on the Spring Hill 40-yard line. The ensuing four-play drive ended when Brown connected with junior receiver Luke Fursman for a 34-yard touchdown pass with 5:57 remaining in the third quarter.
Spring Hill appeared to be set for another answering touchdown when the Baldwin defensive stiffened in the red zone. The Broncos moved the ball from their own 20-yard line to the Baldwin 15-yard line before the Bulldogs dumped a Spring Hill back a four-yard loss on a third-and-one option play. The defense held the Broncos short of the first down on the next play.
After getting a big fourth-down stop on its own 18-yard line at the start of the fourth quarter, Baldwin drove 82 yards in seven plays to give itself a two-touchdown cushion. Most of that yardage came on the drive's final two plays. Berg broke a 32-yard run to the Spring Hill 34-yard line, and Brown broke tackles on his way to the end zone on the next play.
Baldwin's final points of the night came on senior Austin Kraus' school record 47-yard field goal.
"He's a total team player," Berg said. "He lost a big soccer game today and rushed over here with his teammates. We're so happy he's a part of it."
With the win, Baldwin will play K.C. Piper Saturday at Baldwin. A game time has not been determined.
Baldwin 31, Spring Hill 14
Baldwin (7-3) 14 0 7 10 - 31
Spring Hill (5-5) 7 7 0 0 - 14
Scoring: Baldwin – Chad Berg 62-yard run (kick good); Brown 3-yard run (kick good); Brown 34-yard pass from Brown (Austin Kraus kick good); Brown 34-yard run (Kraus kick good); Kraus 47-yard field goal.
Spring Hill: Jacob McDade 1-yard touchdown run (Niles Kahn kick good); McDade 3-yard touchdown run (kick good)