Sweet tooth can find home in downtown Baldwin bakery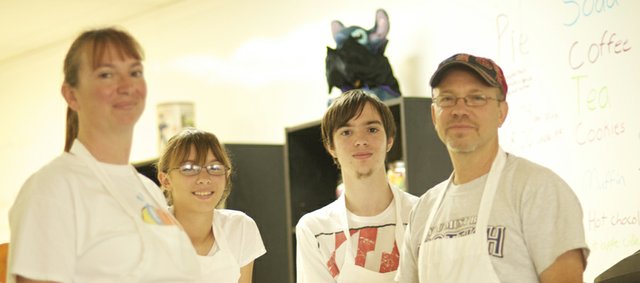 Brian and Trenda Garrett were still tired Monday from a hectic Maple Leaf Festival.
The couple opened the Bulldog Bakery's Sweet Shop at 719 Eighth Street, last week, just in time for the festival. The shop proved popular with downtown Maple Leaf visitors, especially when warm fall weather made its ice cream a refreshing alternative to kettle corn and funnel cakes.
"I'm still recovering," Brian said. "I think I will be for a couple of days."
On Monday afternoon, the shop was finding its normal routine. Customers wandered in regularly, asking if it was open and then checking out what it had to offer.
The curious learned it had cookies, pastries, cakes, pies, rolls, muffins and other sweet baked goods to eat and a variety of brewed coffees and teas to drink. Customers can chose from a number of spiced coffees but not espressos or latte drinks.
"That's available in a lot of other places in town," Brian said. "We want to find our own niche."
That niche is defined by the possessive in the name, Bulldog Bakery's. Trenda said they used the apostrophe to let customers know the shop was more focused on sweet baked goods than breads. But that doesn't mean customers will never find breads there, particularly when the weather turns cooler.
"We'll have soup when it starts getting colder," Trenda said. "We'll have breads with them. Maybe a beef stew in a bread bowl."
Helping Brian and Trenda during the busy weekend and on Monday with local schools closed were their teenage children, Amber and Zach. It's an extension of the home routine of shared kitchen chores, the couple said.
"We've always cooked together and bounced ideas off each other," Brian said. "We've thought about doing something like this for a long time.
"Then a couple of months ago, we had the opportunity to put it all together. Both of us just wanted a quality of life change."
A goal of the Garretts is to keep the shop's offerings fresh. That not only means freshly baked — the Garretts will bake the shop's goods two to three times a week at the two industrial ovens Stan Vickers has at Antiques on the Prairie — but a rotation of baked goods that mixes the traditional with the unusual.
"We'll have something like pecan pie, but we will mix in something unique like Neapolitan pie with strawberry topping, chocolate filling and vanilla crust," Brian said. "We want to have something interesting, and it will always change. We'll have a cookie of the day or a pie of the day."
"We'll do the same with ice cream," Trenda said. "We have eight flavors now. As we run out, we'll order something different."
The Garretts see the shop appealing to seniors and farmers in the morning wanting to enjoy coffee, a "breakfasty" pastry or slice of pie and conversation. They also hope Baker University students take advantage of the WIFI soon to be installed to do school work and younger students will drop by the shop after school.
While their goal is to be a gathering place for young and old, the Garretts expect many of the pies, cakes and other baked goods they make to be consumed outside the shop.
"I expect much of our business will be special orders," she said. "I already have a request for pumpkin pies for Thanksgiving."
The shop's hours are 7 a.m. to 7 p.m. Monday, Wednesday, Thursday, Friday and Saturday and 10:30 a.m. to 3 p.m. on Sunday. It is closed Tuesday.