Baldwin soccer team wins first-round regional match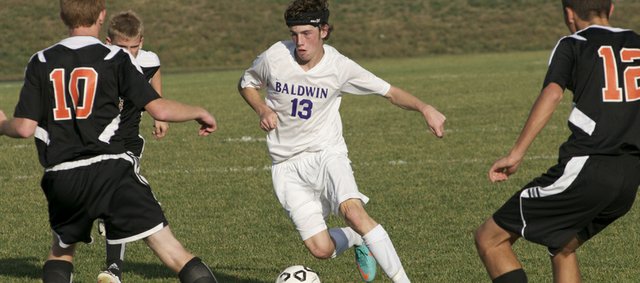 Baldwin got off to a slow offensive start but made up for it with a second-half explosion as the boys soccer team shutout Independence to advance in the state 1A-4A soccer playoffs.
The Bulldogs controlled the match from the start against Independence, keeping the ball on their side of the field and getting multiple shots on goal. But shots weren't finding the net until junior Nick Joslyn converted a penalty kick in the box with 4:21 to play in the half. The shot was set up when a Independence defender held Joel Dixon in the box.
"We were kicking it way too hard," coach Mark Joslyn said. "We told them at half to pass instead of trying to score and kick with the inside of the foot and not straight on. We had some nice passing in the second half, particularly from the right side."
Another factor in the slow offensive start was Independence's strategy of packing the defense back with the hope of shortening the match. It worked until N. Joslyn set up Dixon with a nifty pass in front of the goal with 1:21 to play the first half.
Behind 2-0, Independence could not afford to continue with its conservative defensive game plan. As it attempted to attack on offense, Baldwin capitalized on the holes that opened up in the visitors' defense, coach Joslyn said.
Scoring in the last 40 minutes were Dixon, N. Joslyn — who twice displayed his leg strength and accuracy on long goals from in front of the goal — Brendan Owings on a nice crossing pass from Russell Cloon and Nate Clem.
By the time Clem scored the match's final goal on a penalty kick with 3:18 to play, Baldwin had the game well in hand and Joslyn was able to rest many of his starters.
Independence, which defeated Paola in a play-in game Monday, also may have tired in the second half, Joslyn said.
"That's the advantage of getting a high seed," the coach said.
Another advantage is playing at home, and Baldwin will again have that edge Thursday when it plays the winner of the Spring Hill, which advanced with a 3-1 victory Tuesday against Ottawa. Although Baldwin defeated the Broncos twice this year in Frontier League play, the coach expects a tough match.
"It's tough to beat a team three times in a season," he said. "They know exactly what we want to do."
Baldwin 7, Independence 0
Baldwin (13-2) 2 5 – 7
Independence (6-12) 0 0 – 0
Scoring: Baldwin – Nick Joslyn (4:21 in the first half); Joel Dixon (1:21 in the first half); Joel Dixon (35:53 in the second half); N. Joslyn (30:52 in the second half); Brendan Owings (21:38 in the second half); N. Joslyn (17:46 in the second half) and Nate Clem (3:18 in the second half).