Baldwin boys first, girls second at regional cross country meet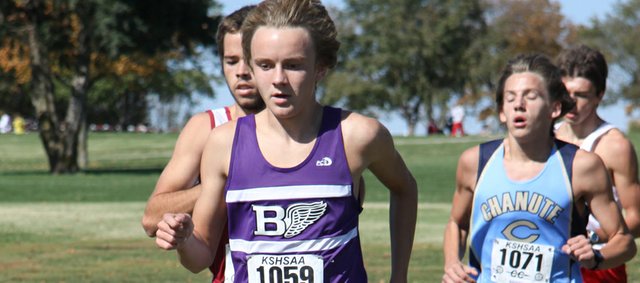 Baldwin High School cross country teams finished first and second at the regional meet Saturday at Anderson County.
The young boys team won the regional. The girls top-ranked 4A team finished second to league nemesis Paola, a team it handily defeated for the Frontier League championship nine days earlier.
Junior Ethan Hartzell led the boys' winning effort, finishing first on the 5-kilometer course with a time of 17:12.16. Sophomore Joe Pierce was 60 seconds behind for third place.
Senior Kaitlyn Barnes once again paced the girls, covering the 4-kilometer course with a time of 16:28.68. Unlike the league meet, which saw six BHS runners finish among the top-10, no other Bulldog could crack the top-10. The girls' chances were hurt with junior Katie Jones once again fighting an injury. Jones, who was unable to finished the Frontier League course because of a nagging foot injury, was hampered Saturday with sore quadriceps, Baldwin coach Mike Spielman said. She finished 20th with a time of 17:27.43.
"But, she's feeling better this week," he said Tuesday. "The girls didn't run their best on Saturday, and Paola ran very well.
"The boys ran well, and both teams qualified for state. That's the goal at regionals."
Finishing behind Hartzell and Pierce for the Bulldogs were George Letner, ninth at 18:48.69; Zach Smith, 24th at 19:29.37; Tucker Clark, 29th at 19:43.02; Nevin Dunn, 38th at 20:01.04; and Colton Horne, 39th at 20:02.08.
Other finishers for the girls and their times were: Addie Dick, 13th at 16:49.51; Libby Verhaeghe, 18th at 17:14.87; Sienna Durr, 22nd at 17:34.31; and Fayth Peterson, 23rd at 17:34.66.
The teams will now compete Saturday at the state finals in Wamego. The boys' race will start at 11 a.m., and the girls at 12:30 p.m.