Festival goers throng to Baldwin City for Maple Leaf Festival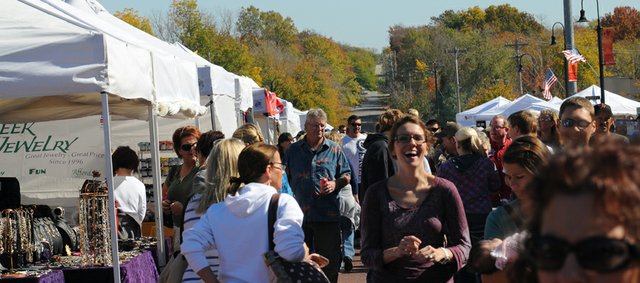 As a band in the Maple Leaf Festival Parade made its way west Saturday morning on Baldwin City's High Street, Brenda Hunt and two friends were marching the other direction.
Hunt's arms were filled with items purchased at festival crafts booths while her companion, Sue Howard, rolled a piece of luggage filled with merchandise she and friend Daisy Parker had purchased.
"Our arms are full and our bags are full so we're going to the car to unload," Hunt said. "We come every year. It's girls day out."
Hunt and Howard of Basehor are joined in the annual festival outing with Parker of Berryton. Experienced festival attenders, they didn't intend to miss out on crafts they wanted to early shoppers.
"We got here at 9 (a.m.) when they opened," Hunt said. "We're not done yet."
At the Kappa Sigma food booth at Eighth and High streets, Mary Spotz of Rantoul was fulfilling a Maple Leaf obligation, purchasing four turkey legs to take back to her husband.
"We used to live if Baldwin," she said. "Every year, I have to get him turkey legs."
Spotz smartly came to the booth while a crowd four rows deep watched the parade at its turn north on Sixth Street from High Street. Thirty minutes later she would have had to wait in line at least 10 minutes to order food.
But a good number of festival goers were already browsing booths downtown and along Eighth Street. Donna Curran, Maple Leaf Festival Committee crafts booth chairman, said everything was in place for a great day.
"The weather's wonderful," she said. "The wind yesterday was a little hard on some of my vendors' tents, but everyone is set up and ready for the crowd to start arriving."