Baldwin downs Santa Fe Trail on senior night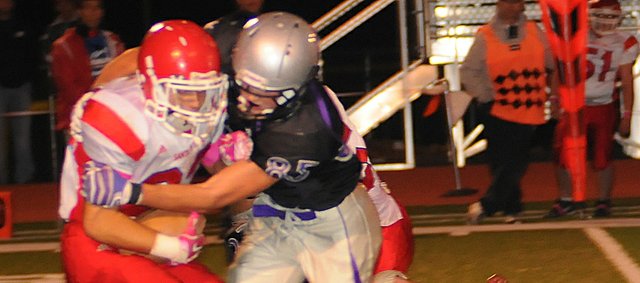 Baldwin — Junior Cornell Brown ran for five first-half touchdowns as Baldwin (6-2) coasted to a 41-0 victory against winless Santa Fe Trail.
Brown added distance on each successive touchdown run, scoring on carries of 5, 15, 45, 54 and 61 yards.

Senior Tyler Cawley returned after missing the past three games and saw some action at quarterback.
The Bulldog defense had its second-straight shutout and has now given up only one offensive touchdown in the past four ballgames.
With the win, Baldwin improved to 2-0 in district play and is assured a spot in the 4A state playoffs. The Bulldogs will have a chance to improve their playoff standings Thursday at rival Eudora in a game for the district and Frontier League crown.
Baldwin 41, Santa Fe Trail 0
Baldwin (6-2) 21 14 6 0 41
SFT (0-8) 0 0 0 0 - 0
Scoring: Baldwin: Brown 5-yard run (Austin Kraus kick); Brown 15-yard run (Kraus kick); Brown 45-yard run (Kraus kick); Brown 54-yard run (Kraus kick); Brown 61-yard run (Kraus kick); Tim Craig 90-yard kick-off return (kick failed)