Quilt show has grown with Maple Leaf Festival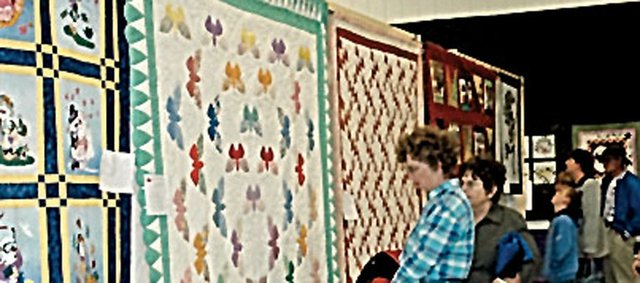 For the past 41 years, the annual Maple Leaf Festival Quilt Show has been a way for quilters to display their work to the public, but the event has evolved from a show to a teaching opportunity.
"It shows the history of the quilts and gets people interested in it," said Connie Mollett, a member of the Maple Leaf Quilt Guild.
The display began as a small sideshow to the Maple Leaf Festival and has grown to more than 100 quilts.
The quilts are all different. Some have themes, others are more technical and some are heirlooms, but all of the quilts tell a story about the quilter and the history of quilting.
"That's our heritage," said quilt guild treasurer Cathy Miles. "Seeing something that someone slept under maybe 100 years ago, it gives you something to think about."
Last year, the quilt show had quilts made by children as young as 10 years old to women who had been quilting for more than 50 years. The guild hopes for the same diversity and numbers this year.
"It's just amazing to see the variety and the different skill levels and techniques people use," Miles said.
Vendors from area quilting and fabric stores will also be at the show with products and demonstrations for interested guests.
Those attending will have the chance to win a quilt. Tickets are available for $1 or six tickets for $5. The quilt has a maple leaf theme and is brown, gold and black. The money from the tickets helps pay for the cost of the quilt and support the guild.
"We try to do charity things and such, and this just helps us to do that," Mollett said.
The location of the show was changed to the Baldwin Elementary School Intermediate Center last fall ,and although some people had a problem finding the show, it worked out because the ample space of the gymnasium made room for extra quilts.
Miles said with the extra space it's hard not to go overboard and show as many quilts as possible.
"I ended up with too many last year, so I'm trying to keep a better perspective this year," she said.
The Quilt Show will be from 9 a.m. to 6 p.m. Saturday and 10 a.m. to 5 p.m. Sunday in the Baldwin Intermediate Center gymnasium. It is free and open to the public. There is free parking for the show at the center and a shuttle to and from the quilt show and town.