Maple Leaf boon to Baldwin City businesses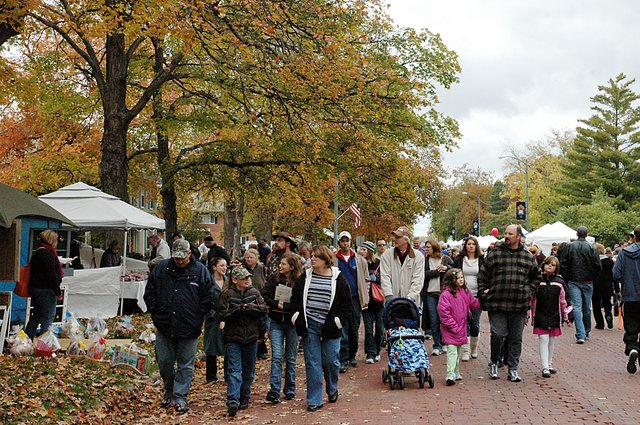 Stan Vickers remembers 20 years ago when friends in his hometown of Williamsburg tried to get him to join them for a trip to the Maple Leaf Festival.
He was then a farmer and too busy during fall harvest to go, Vickers said.
He is still busy during Maple Leaf weekend. But as owner of Antiques on the Prairie at the corner of Sixth and High streets, he is now in the middle of the event that brings an estimated 30,000 visitors the third weekend in October to Baldwin City.
"I totally want to thank the men who put this together all those years ago to create revenue for all the businesses and bring a parade by my front door," Vickers said.
Like many other Baldwin City business owners, Vickers is planning special attractions to entice some of the festival throng into his store. Food vendors will be in his parking lot offering brats and sauerkraut and barbecue.
Mike Langrehr, owner of the Town Galleria, 715 Eighth St., said the festival offered an assurance to his business.
"It's a good feeling to know there will be a time of year you're going to get customers," he said. "You usually only get that at Christmastime."
The shop plans something different every year, Langrehr said. This year, the store will have T-shirts, but in the last 12 months Langrehr also took over the bistro that others have run in the front of his store in the past. He will be offering breakfast and lunch specials, as well as coffee and soft drinks.
But Langrehr knows the sidewalk in front of his store will be lined with vendors offering food and multiple wares to compete with the items he and his consignment vendors have for sale within the store.
"This will be the first time for the restaurant," he said. "I have no idea what is going to happen. We're going to just get ready and try to catch their attention."
Langrehr and Vickers said the benefit of Maple Leaf wasn't limited to the weekend of the festival. They have customers return weeks or months later when things are less hectic.
"I've had people tell me they came back because they didn't have enough time to look around during Maple Leaf," Vickers said.
For Jessica Worley, manager of the Kwik Shop at the corner of Sixth and Ames streets, planning for the festival starts three weeks before the vendors and crowds descend on Baldwin City. That's when she starts communicating with her vendors to ensure the store's shelves will be full.
All the store's employees are scheduled to work festival weekend, and it would take a family emergency or serious illness for someone to be excused from a shift, Worley said. In the past, she has had to request additional clerks from Kwik Shop stores in Lawrence.
The store always offers something special to tie into the festival, such as cookies packaged like those offered by vendors, Worley said.
"It's our busiest weekend of the year," Worley said. "It's hectic, but it's fun. I look forward to it."