Candidates duel over tax cuts, school funding, evolution at forum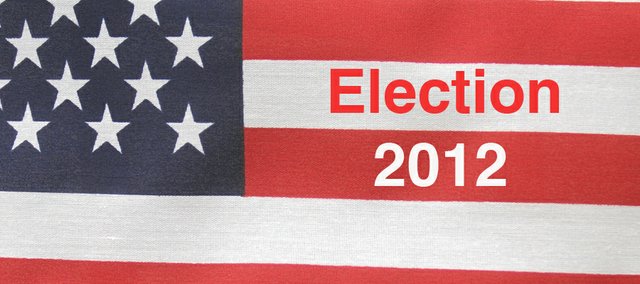 Disagreements over school funding, taxes and the teaching of evolution dominated a marathon session of candidate forums Monday night at the Douglas County Courthouse.
Candidates in seven races matched up in 30-minute segments in the County Commission chambers during a live telecast on Channel 6.
The event, sponsored by the Voter Education Coalition and 6News, produced several verbal jabs but no real knockouts.
Here were some of the highlights:
State Board of Education, District 4
Democratic incumbent Carolyn Campbell of Topeka and Republican Jack Wu, also of Topeka, clashed over school finance and the teaching of evolution.
Wu, a follower of Fred Phelps and the Westboro Baptist Church, which is known for its anti-homosexual rhetoric, said evolution should not be taught in schools. "I believe it is a lie from the devil" and is meant to keep people from believing in God, he said.
Campbell said strong science standards need to include evolution. Not teaching it, she said, would be a disservice to students. "My only agenda is to provide a solid education for our children," she said.
On school finance, Campbell, who has been on the state board for four years, said schools need more funding. Wu said the current level of funding was adequate.
District 4 includes much of Lawrence.
State Senate District 2
Like many Democrats, Sen. Marci Francisco, D-Lawrence, criticized Gov. Sam Brownback's tax cut package, which includes exempting the owners of 191,000 partnerships, sole proprietorships and other businesses from income taxes.
Francisco said the measure will reduce state revenues, spur businesses to reorganize to avoid taxes and make taxes more unfair.
She said she will try to scale back the tax cut by proposing to limit the business income tax exemption to the first $100,000 on nonwage income.
Her Republican opponent, Ron Ellis of Meriden, agreed with that proposal.
In addition, the two candidates also agreed more funding was needed for public schools.
State Senate District 3
State Sen. Tom Holland, D-Baldwin City, who faces state Rep. Anthony Brown, R-Eudora, were not as agreeable.
Holland said the tax cuts that Brown voted for "will cause financial crises for years to come."
But Brown said the cuts will put more money back into the pockets of everyday Kansans and grow the economy.
Holland also criticized Brown because the tax cut eliminated a sales tax rebate program that is aimed at helping low-income Kansans. But Brown said Holland hurt low-income Kansans by voting in 2010 for a one-cent sales tax increase.
The two also dueled over safety improvements on Kansas Highway 10. Holland noted that Eudora Mayor Scott Hopson said Holland helped the community while Brown didn't. Brown said he worked behind the scenes on K-10 cable median barriers.
State Senate District 19
State Sen. Anthony Hensley, D-Topeka, called for restoring cuts that have been made in the past several years to public schools.
But Republican Casey Moore, R-Topeka, said he opposed additional funding for schools.
Moore said the state is spending $12,000 per student per year, but Hensley noted that includes many expenses unrelated to classroom instruction.
Moore said he supported making government smaller, but Hensley said shrinking government needed to be done carefully, and he used the example of when the Brownback administration wanted to shut down the state welfare office in Lawrence. "That would have been devastating to this community," Hensley said. The plan was later abandoned after a huge public outcry.
State House District 44
Republican Patrick Bengtson, a political newcomer, said it was time for a new voice in the district, which has been represented for nearly 20 years by state Rep. Barbara Ballard, D-Lawrence.
Bengtson wouldn't say whether he would increase school funding but said of the state's budget condition, "We cannot tax our way out of it, and we cannot cut our way out of it."
Ballard said she supported additional funding for schools and noted her opposition to the recent tax cuts.
She said Lawrence voters knew her and that she would make the "hard votes" and fight for funding for mental health and those with disabilities.
State House District 10
Democrat John Wilson of Lawrence and Republican Erica Anderson of Baldwin City disagreed over school funding.
Wilson said schools needed additional funding, but Anderson said that they were getting enough.
Douglas County Commission, District 2
Republican challenger Frank Male and Democratic incumbent Nancy Thellman both expressed doubts about the feasibility of combining the Lawrence Police Department and Douglas County Sheriff's office.