Baldwin falls in league championship showdown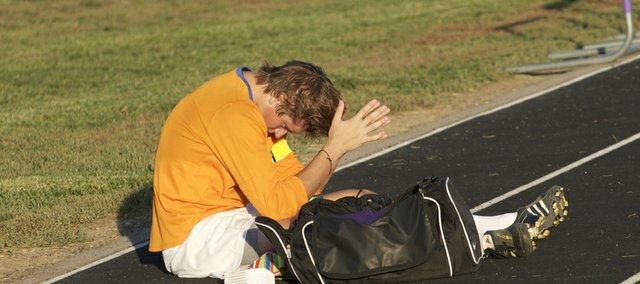 Baldwin's chance to claim the Frontier League boys' soccer crown ended Tuesday with 5:25 to play in overtime in Monday's match against De Soto.
For the second time this year, the Bulldogs lost to De Soto, 1-0. Those losses were Baldwin's only defeats in a 14-2 regular and 10-2 league season. With the win, De Soto won the league title with a 9-1-2 record. Had the teams tied, Baldwin would have won the league championship.
"That was a tough loss," coach Mark Joslyn said. "We lost to them up there, 1-0, so the guys wanted this one."
The match was a defensive struggle as both teams contesting every offensive possession. There were few scoring opportunities or shots on goal.
Still, coach Joslyn said he felt his team got the better of De Soto until late in the match.
"I thought we tired a little bit," he said. "We just couldn't finish shots."
Baldwin had a chance to win the match at the end of regulation with a penalty kick from in front of the box. But junior Nick Joslyn's kick over a blocking wall of De Soto players sailed just over the bar.
Tuesday's loss came after two road wins in the last week. Baldwin set up the Tuesday league showdown with a 2-1 victory last Thursday in Ottawa. The team went on the road Monday to blank Maranatha Academy, 3-0.
Despite the loss, Baldwin still looks to be the No. 1 seed in its regional when post-season play starts next week. If so, the Bulldogs would play all their regional matches at home.
"Regionals are the important thing," Joslyn said. "We need to put this in our back pocket and focus on what's ahead.'
Joslyn said regional foes include the Frontier League teams Louisburg, Paola, Spring Hill and Ottawa the Bulldogs have already played and beaten twice this year. Also in the region are such southeastern Kansas teams as Fort Scott, Independence and Pittsburg.
Seedings will be released Saturday. Joslyn anticipates Baldwin's first match will be Tuesday, when it plays the winner of a first-round play-in contest.