Grandfather's motorcycle trip inspires rural Baldwin City man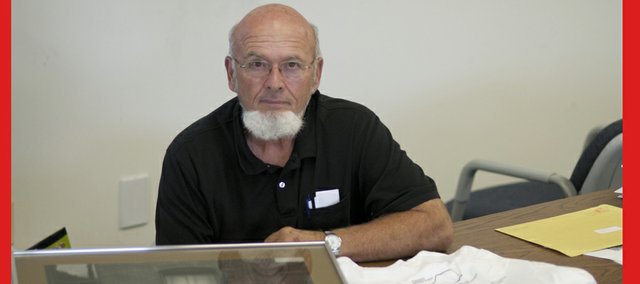 In an old black-and-white photograph, Don Flory's grandfather M.E. Kinzie stands with three other young men in front of an Indianapolis tire shop, gripping the handlebars of their strap-tank Wagner motorcycles.
Dressed in canvas coats, caps and goggles, the four men are about to embark on an 1,800-mile adventure proclaimed on signs attached to rear wheel covers of their gas-powered bicycle-like machines, which read: "En route Indianapolis to Denver."
Flory is in awe of the trip his grandfather took with his brother and two cousins in 1907. They traveled from the Midwest, through the Great Plains to within sight of the Rocky Mountains on machines pedaled like bicycles until they were going fast enough to engage a single-cylinder motor.
Crude as they appear to modern viewers, the motorcycles were marvels on a trip taken a year before Henry Ford produced his first Model T. The motorcycle ride was enough of a novelty to spur a Denver newspaper to do a story about the cousins' arrival in that city and to cause some confusion about what powered the machines.
"I was in high school when my grandfather died," Flory said. "He was a great storyteller. I can remember him having a hoot telling one story over and over about one old farmer telephoning ahead, 'My golly, mom, there's boys here with steam bicycles.'"
With the trip's place in family lore, motorcycling became a family tradition and as a young man he rode motorcycles, as did his mother's brothers, Flory said.
"I rode Triumphs back in the '60s," he said. "I put a lot of miles on them. Then I got married and put them up."
Others in the family kept the tradition alive. Recently, his cousin, a surgeon in California, has organized a Labor Day motorcycle tour.
This year, Flory, inspired by his grandfather's example, decided to be part of the ride and was given the privilege of planning its course. Using a computer, he planned a four-day, 1,140-mile trip that started at his cousin's home in Modesto, looped into the Sierra Nevada Mountains for excursions into Yosemite, Sequoia and Kings Canyon national parks, returned to the central valley, turned west at Fresno to cross the Coastal Range to the ocean at San Simeon, headed north along the famous California Highway 1 to San Francisco and back to Modesto.
The route provided the sight-seeing opportunities of Half Dome, Bridalveil Fall, the 275-foot-tall Gen. Sherman sequoia, William Randolph Hearst's Castle, Big Sur and the Golden Gate Bridge. But Flory said it was also fun to find out what the smaller towns looked like after first seeing their names on a map.
Eleven riders rode the tour's complete distance, Flory said. The group included two cousins from California and two Lawrence cousins, Mike and Stan Flory.
Flory rode a Harley-Davidson Heritage for the trip. He admits he was not the seasoned motorcycle rider of his youth when he started the tour and fell over twice on the big bike, both times when stopped.
His wife, Kathy, was supportive of the ride but did give instructions.
"When we were coming into San Francisco, she told me to be careful and she definitely didn't want me showing off," he said. "San Francisco was a little scary. We were running at 70 mph in seven lanes of traffic. I couldn't believe it. You have to keep up with them, or you're going to get ran over."
Other sections of the tour required slow riding with equal concentration.
"Coming out of Kings Canyon — I don't know how many switchbacks we were on, but we couldn't go over 10 mph," he said. "That was the crookedest road I've ever been on. Once we got out of there, everyone was itching to open it up."
The scenery and open air were great, but the real thrill of the ride was bonding with his cousins and friends, Flory said.
"We had a great time," he said. "All the memories. We were tired because we did bigger days than we thought we would. But we had such great times when we ate dinner and in our rooms."
Flory is open to taking another tour with his cousins and is considering buying a motorcycle.
"I don't want to ride to California," he said. "Renting is the way to go. But they are thinking about doing something in between."