Food: Carrot soup is creamy, smoky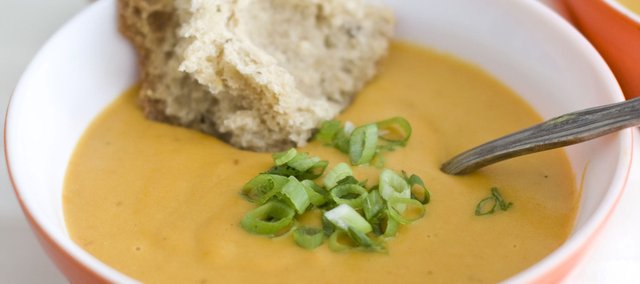 With its robust blend of sweet, creamy, spicy and smoky flavors, this soup is perfect for a chilly fall afternoon. The beautiful orange color, the subtle smoky-spicy flavor of the chipotle, and the satisfying creamy texture make this recipe a perfectly seasonal lunch or appetizer. Consider topping the soup with seared shrimp or shredded pork for a quick weeknight dinner.
Creamy Chipotle Carrot Soup
Start to finish: 45 minutes
Servings: 6
2 tablespoons olive oil
1 large yellow onion, diced
2 cloves garlic, minced
1 pound carrots, peeled and diced
2 potatoes, peeled and diced
1 canned chipotle pepper (in adobo sauce), minced
1 tablespoon adobo sauce (from canned chipotle peppers)
2 cups low-sodium chicken broth
1 cup heavy cream
Salt and ground black pepper
Sliced scallions, to serve
In a large, deep pot over medium, heat the oil. Add the onion and garlic and cook until lightly browned, about 10 to 12 minutes. Add the carrots, potatoes and chipotle. Cook for 5 minutes, then add the adobo sauce and broth. Bring to a simmer and cook until the carrots and potatoes are tender, about 30 minutes.
Working in batches, transfer the soup to a blender and puree until smooth. Return the soup to the pot and return to a simmer. Stir in the cream and season with salt and pepper. Serve topped with sliced scallions.