Baldwin volleyball team finds De Soto to its liking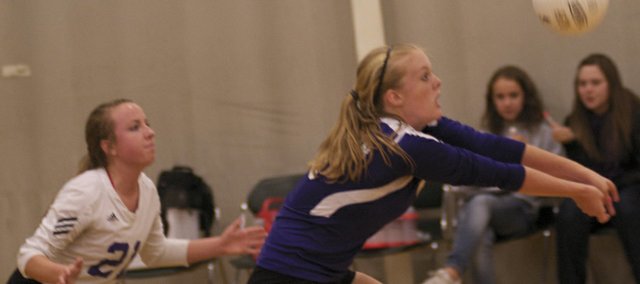 The Baldwin High School volleyball team enjoyed two trips to De Soto in the past week.
The team had its most successful tournament of the season, placing second and finishing with a 5-1 record Saturday at the De Soto Spikefest Tournament.
"It was a great tournament for us," said coach Jill Brown. "I was really proud of the way we played throughout the day. We passed the ball extremely well, which allowed our setters lots of options."
On Tuesday, the Bulldogs returned to De Soto to down the Wildcats in a league matchup (25-18, 25-21, 25-16).
The Bulldogs went 4-0 in pool play, defeating Tonganoxie (26-24, 25-16), Jefferson County West (17-25, 25-22, 25-23), De Soto (25-22, 25-21) and Leavenworth (20-25, 25-17, 25-16).
Baldwin defeated Basehor-Linwood (20-25, 28-26, 25-15) to advance to the championship match, where it fell to Lansing (21-25, 23-25).
Brown said making the day more gratifying for Baldwin was the team's defeat of Tonganoxie, De Soto and Basehor-Linwood, three teams with victories against the Bulldogs earlier in the season.
The team finished the day with a serve-receive rate of 2.3.
"We were also very scrappy on defense, allowing very few balls to hit the floor," Brown said.
Senior Katie Kehl led the team with digs with 30 and service aces (7). She also had 33 kills and finished with a serve-receive of 2.5.
Also getting on the floor was fellow senior Madeline McCrary, who had 25 digs on the day and seven service aces. She finished with a serve-receive rate of 2.4.
Jordan Hoffman led the team in kills with 66 and added seven block. Alexia Stein had the team's highest hitting efficiency at .340 and finished with 36 kills, 13.5 blocks against eight errors.
Helping get the ball to the hitters were Core Valentine and Katie Pattrick, who racked up 73 and 59 assists, respectively.