Baldwin earns second-straight road win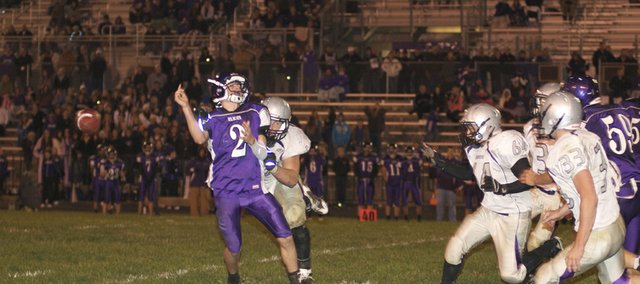 Louisburg — Baldwin powered its way to a second-straight Frontier League road win Friday with a 31-14 victory against Louisburg.
The Bulldogs raced to a 17-0 first-half lead on the strength of a career-long 42-yard field goal by senor Austin Kraus and touchdown runs by senior fullback Mark Harman and junior Cornell Brown, who started his second-straight game at quarterback with an injury to senior Tyler Cawley.
Brown, who scored two touchdowns while running for 231 yards on 39 carries last week against De Soto, was again the workhorse of Baldwin's attack. He scored the Bulldogs' final two touchdowns on runs of 2 and 12 yards. Baldwin's second-half touchdowns answered Louisburg scores and came on clock-eating drives of 88 and 73 yards.
Baldwin snuffed out Louisburg's last chance to get back into the game when senior end Dayton Valentine forced a Wildcat quarterback Nate O'Brien fumble after Louisburg had driven to the Baldwin 10-yard line with 6 minutes to play.
Baldwin 31, Louisburg 14
Baldwin (4-2) 3 14 7 7 - 31
Louisburg (3-3) 0 0 14 0 - 14
Scoring: Baldwin – Austin Kraus 42 yard field goal; Mark Harman 6-yard run (Kraus kick); Brown 2-yard run (Kraus kick); Brown 2 yard run (Kraus kick); Brown 10-yard run (Kraus kick).
Louisburg — Nate O'Brien 38-yard run off blocked punt (Jason Danciak kick); O'Brien 5-yard run