Baldwin mechanic finds art in auto parts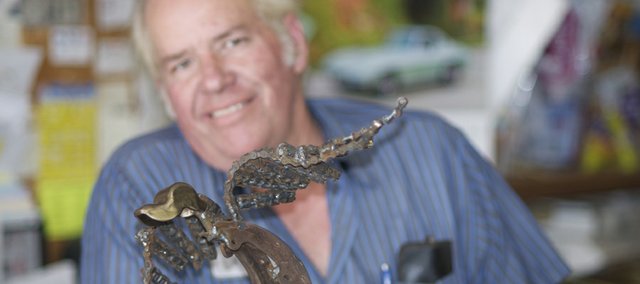 Ken Robbs says the used auto parts in his garage sometimes talk to him.
It's not that the owner of Ken's Auto Repair and the adjoining KARS Auto Parts in the 600 block of High Street is losing his grip, it's that the old parts Robbs pulls from the vehicles he repairs want a new life.
"Right now, I have a control arm over there that says it wants to be an emu," he said.
Robbs may well satisfy the control arm's desire. With the aid of a wire welder, the mechanic and business owner has tapped into his artistic side, creating sculptures from the used metal parts.
His latest creation is a duck, depicted arching its back as it enters the water. Old brake shoes were used for the duck's body, bits of timing and bicycle chains form its wings and a rocker arm forms its distinctive billed head.
"I saw the rocker arm and knew I wanted to use it as the head," Robbs said. "I knew I wanted to use chains for the wings. I looked up pictures of ducks landing, and that's how I came up with the brake shoes."
Robbs is donating the piece for auction at Saturday's Ducks Unlimited gathering at The Lodge.
"They came around asking for something to donate," he said. "I thought it was more unusual. Hunters always want trophies, and it's the right size to fit on an end table. It will be better than an oil change they'll forget."
Most of his work has been given away, Robbs said. A gecko was a present for his daughter's lizard-loving teaching mentor, and a re-creation of the "Cars" movie tow-truck Mater was given to his mother.
Robbs said he enjoyed artistic pursuits like drawing and carving. A purchase and a chance discovery started him in metal sculpture.
"When I recycled radiators and bought a wire welder, that's what got me started," he said. "Then my son John left bolts on my work bench. When I went to brush them off, he said 'Don't, don't, don't. That's my frog.' It was a flat frog. It needed to be inflated. We had to test the welder on that."
In two weeks, the street in front of Robbs' businesses will be lined with arts and crafts booths. Robbs paused for about five seconds when asked if he ever thought about selling his pieces at Maple Leaf.
"Everybody says I should, but I don't know," he said. "I don't have enough stuff. I've given it all away.
"I get it all (the used parts) for free, but I have to wait for inspiration."