Antonucci's opening in Baldwin City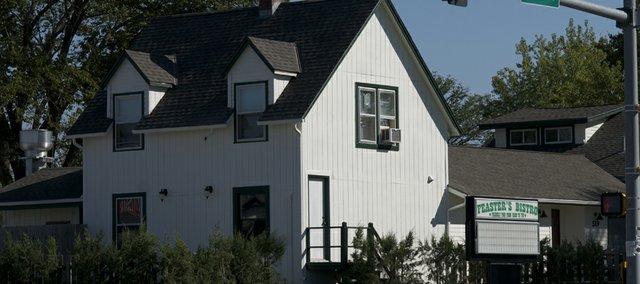 With the closing of Feaster's Bistro, Wheat State Pizza and McDonald's, restaurant choices in Baldwin City have been more limited in the past several months.
But when one restaurant closes, another one opens, which is what will happen at the former Feaster's location, 519 Ames Street.
The Baldwin Diner owners, Brent Boyle and Jeremy Rodrock, purchased the building in August and are preparing to open an Italian restaurant, Antonucci's.
"Jeremy and I have always talked about opening another restaurant as a project and when we saw the previous restaurant (in the building) failing, we brainstormed, shot ideas around," Boyle said. "It was the perfect storm; we had all of these ideas and the building received new ownership."
The restaurant will have traditional Italian food with menu items like pizzas, salads, soups and pastas, as well as some seasonal items and desserts.
That is because Antonucci's will serve only one type of food and the owners want to promote quality rather than a large quantity of items on the menu.
Along with the menu, the building is getting revamped. The building is being painted and the interior is getting a makeover, including refinished floors.
One feature Boyle is excited about is the restaurant's bar area. The owners have applied for a liquor license and plan to stream Baker University sporting events live so customers can eat, have a drink and watch a game.
The menu will have a fairly large appetizer menu to cater to customers coming to the restaurant to watch games, Boyle said.
In the past three years, the building has housed three other restaurants: The Melange Apron, The Rogue Wave and Feaster's Bistro. Despite the other restaurant attempts, Boyle feels the Baldwin Diner has established a strong following of customers who will at least give Antonucci's a try.
"Nothing ventured, nothing gained. We may as well give it a shot," he said.
Boyle hopes Antonucci's will encourage the community to choose a Baldwin City restaurant for date nights or when they want to go out to eat.
"We're hoping to get people considering going to Lawrence to stay here in town," Boyle said. "If we can get people to stay in Baldwin City, it will help the community across the board."
Antonucci's doesn't have a set opening date, but the owners would like to open a few days before the Maple Leaf Festival, which is the third weekend in October.