Experienced Baldwin girls team ready for season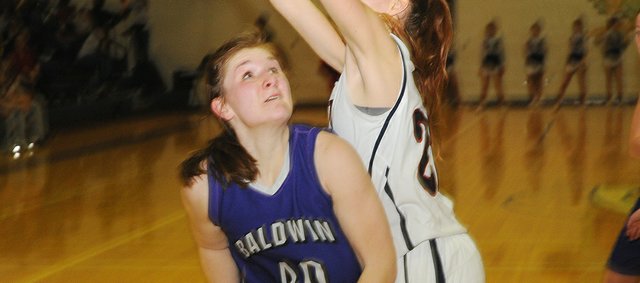 A standard part of pre-season previews will not be a part of any look ahead for the 2012-13 Baldwin High School girls basketball team.
Bulldog previews will be without any mention of what was lost from graduation because there were no seniors on the 2011-12 squad.
Instead, Bob Martin is welcoming sophomores from last year's undefeated freshman team and players off a successful junior varsity team to a squad of battle-tested juniors and seniors.
"'The experience we gained from last year should be of benefit to us," he said. "I felt like we worked very hard over the summer to improve and that should help also. We feel good about our chances to compete in the Frontier League this year."
Senior Kailyn Smith, junior Katie Jones, senior Kaitlin Jorgensen, senior Katie Kehl, senior Jessie Katzer, senior Callie Enick, junior Hailey Cope, senior Kelsey Dighans and senior Elena Watson are among the returning juniors and seniors to saw action last year as Martin made liberal use of his bench.
With the arrival of more young talent, the team is even deeper. That's good for the team but does make it difficult to decide who gets playing time, Martin said. The team will take advantage of its deep bench to press this year, he said.
New arrivals are bringing one thing mostly missing on last year's team — height. As juniors, Katzer and Kehl used their strength, quickness and determination to battle larger opponents in the post. This year, sophomores Alexia Stein and Corey Valentine will join the returning senior Dighans as more traditional post players.
The inside game will be balanced with the guard play of Smith, Jones, Jorgensen and Cope, who all proved capable of knocking down three-pointers last year.
All in all, Martin said his team should be among those contending for the Frontier League title.
"I think the league should be wide open with no clear-cut favorite and at least five or six of the seven teams in the league having a shot at being league champions," he said. "We have a very tough early schedule in December. Three of the first four games we play could be against ranked teams. This should help up prepared for the tests we will face ahead of us.
"I think all the girls are excited about what this season will bring."
The Bulldogs open Friday at Jefferson County North in Winchester. The team will play next week in the Bulldog-Wildcat Classic. All games have been moved to Burlington because of a sewer problem at Baldwin Junior High School.
The girls will play Anderson County at 7:30 p.m. Monday in the Burlington Middle School gym.