Baldwin High School senior ready for the big city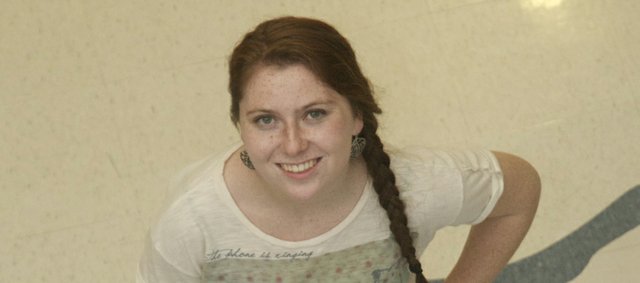 As a freshman in high school, Sammie Weiss wrote a novel about a young woman leaving home to attend college in New York City.
"I was bored, and I always wanted to try to write a novel," she said. "I just decided toward the end of summer to do it. I finished it the first couple of months of school."
The novel may have helped her fill time and flex her young literally muscles, but it was also a chance for Weiss to envision her dream of attending college in the nation's largest city.
Three years later, her interest in going to college in New York City has waned, but she still intends to pursue her education in an urban setting and has applied for admission into a number prestigious metropolitan universities. Her first choice is the University of Chicago, followed by the University of California at Berkeley.
"I'm looking for a new adventure," she said. "I like cities a lot. I'm excited to move on."
Weiss, the fourth of five children of Steve and Laura Weiss of Baldwin City, recently earned a distinction that will give her an edge on her college applications. She learned in September that her score of 201 out of a possible 240 on a pre-SAT test taken by high school juniors earned her a commended scholar designation by the National Merit Scholarship Corp. She was one of 50,000 students to be so named nationally.
"That is outstanding," said Debbie Baldwin, Weiss' counselor at Baldwin High School. "This is my first year at the school, but nobody I talked to was surprised. She puts in the effort, studies hard and practices.
"It should offer her some pretty amazing scholarship opportunities."
Weiss said she attempted to prepare herself for the academic challenges ahead while at Baldwin High School.
"I wish it were more of a challenge, but if you take the right courses it can be what you want it to be," she said. "I took two advanced-placement classes last year and three this year."
As of now, Weiss intends to earn her undergraduate degree in English but is less firm on her post-graduate education.
"I haven't decided if I'll earn a PhD in some form of English or go to law school," she said. "Those are the two I'm thinking of the most."
One of her three older siblings is a lawyer, but Weiss dismissed the profession until taking an advanced-placement government course.
"Law is interesting, and my mother likes the idea," she said.
Nonetheless, English and literature remain the first loves of the young woman who consumes novels and dabbles in poetry. Yet Weiss is open to discovering a new passion that will change her educational and career plans.
"That's what college is all about, finding things you are interested in," she said. "That's why I want to find a good school, so I can find out about those opportunities."
Many firsts lie ahead, but the next five-plus months will include many farewells to the activities that have occupied Weiss during high school.
"My last time to do a school play, my last forensic season," she said. "It's exciting but sad. But I'm still excited to go to college."