Baker University helps drive local real estate market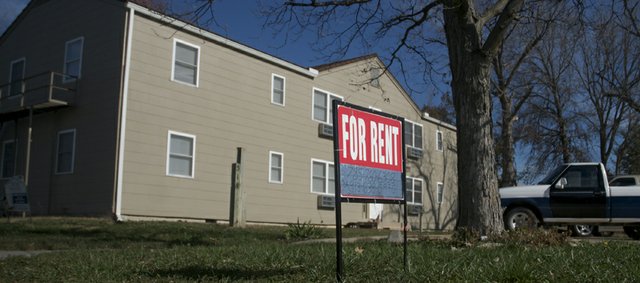 The relationship between a landlord and tenant is always an important element but it may be even more so for the landlords of Baldwin City.
Scott White is a landlord in Baldwin who rents more than 30 properties to local residents. While Baker's student population was not a factor for White in starting his business, it has become a major part of his clientele.
"Out of the 31 units that we either own or manage, exactly 29 percent of those units are occupied by at least one student," White said. "Now, you take into account the how many people that I have as tenants that either are Baker grads, or have settled here, or are people who work at Baker, or used to work at Baker, you're getting pretty close to 40 percent of the people that I rent to."
Ken Kirklin co-owns an apartment building at 510 Ninth St. Kirklin said Baker students and faculty occupy five of the seven units.
"Quite a few of them are nontraditional students, or students that have just graduated," Kirklin said. "I've got two staff for Baker living there, in two different apartments. I have three students."
The general consensus of White and Kirklin is if Baker were not a part of Baldwin, the town would be unrecognizable. White believes his business would take a major hit if Baker were not a part of the community.
"If Baker wasn't in Baldwin City, Baldwin City would not be the same town," White said. "I would suffer greatly. The whole town would suffer greatly. I think that Baker is pretty much at the heart of Baldwin City's economy."
Kirklin agrees but goes a step further.
"I think the whole town wouldn't even be there," Kirklin said. "I think the draw is Baker. I think it's an integral part of the community."
However, not every business is reliant on Baker's continuity. Under a quarter of a percent of Reece & Nichols Gold Reality's revenue comes from homes inhabited by Baker faculty, staff or students. Kim Bergan, a real estate agent with Reece & Nichols, believes it's a fairly simple explanation.
"I know a lot of faculty and staff don't live in Baldwin," Bergan said. "As far as students, most students live on campus. So buying real estate while they're in college, you don't see that quite as much."
However, Bergan does see Baker as an asset to Baldwin City and her line of work.
"Baker's an intricate part of Baldwin," Bergan said. "Baker doesn't just bring in their employees to live here and work here. Baker also provides a community atmosphere that people want to live here that may not be directly related to Baker."
Bergan isn't the only one. Debbie Morgan of Stephen's Real Estate estimates 20 to 25 percent of her business comes from Baker faculty or former students, and believes Baker is an integral part in filling the homes in Baldwin City.
"I think Baker University is a big attraction for the people moving to Baldwin," Morgan said. "I think it plays a big part in people choosing this small town over other small towns."