Baldwin High School wrestlers looking to improve on program's best year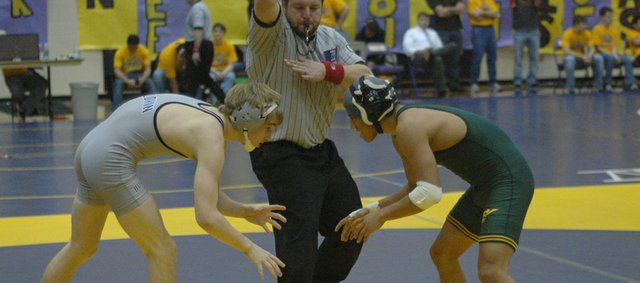 Although his Baldwin High School wrestling team set new standards for the program last year, coach Kit Harris thinks it can do more.
The 2011-2012 Bulldog squad won the Frontier League decisively, finished fourth in its regional while qualifying seven wrestlers for the state competition and finished a school-best sixth at state with two wrestlers earning state titles and another earning a second-place finish. Along the way, the team posted a 13-1 dual meet record.
"It was an exciting year for us," Harris said.
Harris is aware the team lost two 2011-12 state champions in Andrew Morgan at 132 pounds Colton Bonner at 220. But he is also aware a solid core from last year's deep squad is returning, led by Bryce Shoemaker, the 2010 state champion as a freshman at 103 pounds and runner up last year at 126 pounds.
"We return four wrestlers with state experience, and a wrestler who has been a state champion," Harris said. "We also have a lot of very tough, hard-working, young kids who have established themselves as quality wrestlers. They are ready to challenge for state this year."
Shoemaker, who signed to wrestle at Baker University next year, has a career record of 115-16.
The senior will wrestle at 138 pounds and try to build on the 40-6 record he compiled last year.
Joining Shoemaker as team captains are seniors Jason Von Bargen and Colton Horne and junior Tucker Clark.
Von Bargen will again compete at 160 pounds. He compiled a 31-14 record last year, won his class in the Frontier League and qualified for state with a second-place regional finish.
Clark, who will wrestle at 132 pounds, is another returning league champion, wrestling at 120 pounds last year, Clark finished as a state qualifier and a 29-10 record.
Horne posted a 12-19 varsity record in 2011-12 wrestling at 152 pounds. He will compete at that weight again this year. Fellow senior Mark Harman, who will wrestle at 170 pounds, finished last year with a 16-15 varsity record and earned a league title.
Sophomore Joe Pratt, who finished second at the regional meet a week after taking the 106-pound Frontier League crown, returns to compete at 120 pounds.
The experienced team is adding a talented group of freshmen, Harris said.
"Several freshmen were undefeated in junior high wrestling," he said. "Several freshmen will get a chance to gain some varsity experience this year."
Varsity schedule
Gardner-Edgerton Invitational, Dec. 1
Eudora Tournament, Dec. 7 and 8
Ottawa Dual Tournament, Dec. 15
Bonner Springs Invitational, Jan. 5
Basehor Bobcat Invitational, Jan. 11 and 21
At Burlington, Jan. 17
At Piper, Jan. 24
Baldwin Invitational, Jan. 26
At Lawrence, Jan. 30
At Silver Lake Invitational, Feb. 2
Osawatomie, Feb. 6
Frontier League Tournament, Feb. 8 and 9