Baldwin City woman thankful for family, friends comfort in cancer scare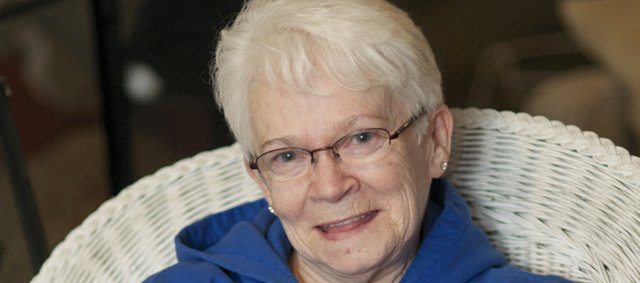 Like most of us, Marilyn Nieder knows what she'll have for Thanksgiving dinner, although she won't be sitting down to a table to eat turkey with the traditional trimmings.
"I'm having Kentucky Fried Chicken on a beach with my sister," she said. "I don't know what beach. I think it will be somewhere near Laguna. I'm looking forward to it. We always have a great time together."
The 67-year-old Nieder flew Saturday to visit her sister in southern California and, while her Thanksgiving dinner may be unusual, she figures she's made plenty of traditional dinners as a cook at Baldwin Elementary School Intermediate Center for the past six years and as the mother of five who also raised a granddaughter. Whatever the holiday fare, Nieder will accept it with the humble gratitude befitting Thanksgiving.
"I'm extremely thankful," she said. "I'm very grateful. I hate to think where I'd be if it weren't for mammograms."
This past year, Nieder was diagnosed and treated for breast cancer. She avoided major surgery and the ordeal of chemotherapy because the cancer was caught early.
"It wasn't a bad experience considering the bad experience," she said. "I had a very good doctor, who explained everything. Lawrence Memorial Hospital treated me very well."
Nieder learned she had a tumor in May after her yearly mammogram.
"They told me after my exam a year earlier it looked a little iffy and they would see me in six months," she said. "I put it off like we are prone to do. When I received a second notice in the mail, I thought I'd better get in. I'm very lucky I did."
Doctors found a tumor that was too small to be detected through self-examination. In late May and early June, Nieder underwent two lumpectomies to remove "a very small bit of tissue," followed by six weeks of daily radiation treatments at Lawrence Memorial Hospital. The treatment ended with an all-clear prognosis and an order Nieder get a mammogram every six months.
"I have to take a pill every day, and that kind of keeps it in my mind," she said. "I have to get a mammogram every six months for the next two years. I'll never dawdle again. Next time I get a notice, I'll go right up for my exam."
As well as her treatment went, the knowledge that she had cancer did cause fear and anxiety.
"I think my darkest moments were before I went to sleep at night," Nieder said. "It creeps up on you once in awhile."
As she reflected near Thanksgiving, Nieder was grateful for her "very good support system" that helped her to put distance between her and those negative thoughts. That support system included her husband, Jim, family and eight long-standing Baldwin City friends.
"Everybody was there for me," she said. "My close friends I've known since our school days."
Her brush with cancer and its successful treatment has made Nieder an example for others and a strong advocate of women getting annual mammograms.
"By all means, don't ever be late," she said. "It's been a lesson to my friends, too.
"I had one friend who made an appointment for a mammogram the day she heard (of Nieder's diagnosis)."
Linda Jackson, a fellow cook at the intermediate center, said she was among Nieder's longtime friends.
"We've gone on trips together," she said of the group. "We always have a good time together. I think those friendships mean more to us as we get older."
She and Sandy Johnson, another former schoolmate, walked every morning with Nieder before she went for the radiation treatments, giving her encouragement.
"We walked around the track at the high school because they told her she might get tired from the treatments," Jackson said. "We assured her everything would be all right.
"We still encourage her. When you have something like that, you're scared to death they'll find something else."
Having cancer has given her a new perspective of the value of family and friends and the time she spends with them, Nieder said.
"I think I'll always be a little bit more aware and a little more attentive," she said. "It makes me enjoy life just a little more, with the help of good friends. They are just good medicine."