Baldwin
USD

348 agrees to donate easement for expanded

KDOT

project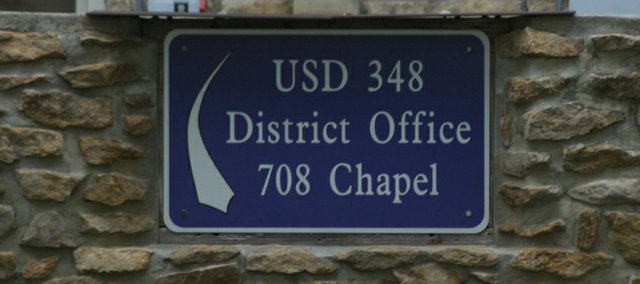 Baldwin City residents pleased with the completion Friday of construction on North Sixth Street should be prepared for construction to close another main entrance to the city next spring.
Baldwin City Public Works Director Bill Winegar shared that news Monday with the Baldwin Board of Education, while seeking its help with the project on U.S. Highway 56 on the city's west side.
In February 2011, the Kansas Department of Transportation approved an application by Baldwin City and Douglas County to make safety improvement to the U.S. 56/Lawrence Street intersection as part the agency's corridor management program. The project, estimated to cost $500,000, was to add a turn lane to the intersection.
Winegar told the school board Monday that, after reviewing the project, KDOT decided to significantly increase its scope. KDOT now plans to cut the hill to the east of the intersection by 6.5 feet, an action that will significantly improve the sight line at the corner.
KDOT is also wrapping the replacement of three narrow bridges on U.S. 56 into the project, Winegar said. The eastern-most bridge to be replaced is just west of 10th Street in Baldwin City.
KDOT has assumed all engineering costs for the upgraded project, Winegar said, but the city and county are to share the cost of utility relocation and easement acquisition. That expense increased significantly with the plan to cut the hill, which required the city acquire another 60 feet of easement south of the highway from Bullpup Drive to Lawrence Street, he said.
To help reduce that expense, the city was asking the school district to donate the easement, Winegar said.
The board unanimously approved the request. Winegar will ask that the Bullpup Drive intersection be kept open until the end of this school year in May and reopened by the start of school in August.
The project is to take one construction season, Winegar said. It will be bid in February 2013 and work will start in April.
The official detour will take traffic south to Ottawa, east to Wellsville on Interstate 35 and north to U.S. 56 on Kansas Highway 33.