Baker contributes to retail success in Baldwin City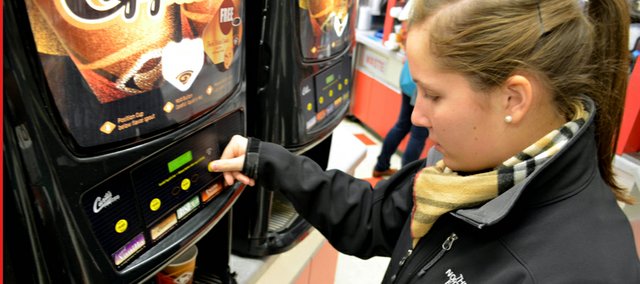 Editor's note: This is the second in a series of three articles on the economic impact of Baker University on the Baldwin City community.
Baldwin City retailers depend not only on residents of the community, but on the service of students, faculty and staff of the Baker University community as well.
Many of Baldwin's business owners said as much as 25 percent or more of their business is Baker-related.
The Kwik Shop serves as the only 24-hour business in town, which can be attributed to why the Baker community makes up about half of its business.
"About the time period between when the students leave and the summer sports begin, the sales do drop noticeably," Jessica Worley, Kwik Shop manager, said. "During Christmas and Thanksgiving break, when students leave, we can tell that they're gone by the sales."
Despite the obvious impact Baker consumers have on many of the locally owned businesses, some merchants believe it would still be possible to survive without the university's presence.
"I think in order to survive, you have to find business from Baker and use that source of income as well as outsourcing to other areas outside of Baldwin," Suzanne Wayenberg, owner of Shirt Shack, said. "Otherwise, it's hard to make enough money to survive and pay employees."
Although one may think liquor stores depend on college students, JBC Liquors, one of two liquor stores in Baldwin City only sees "maybe a quarter" of its business coming from Baker students, faculty and staff.
"We don't really depend on Baker students," Alli Abel, JBC Liquors manager, said. "Even though there's a lot of students, they're not all of age to buy."
Owner Lynda Lewis pointed out that higher sales in the community compensate for when students leave for the summer.
"We go through a summer without Baker," she said. "The community picks up a lot of summer partying, that sort of thing, on the deck type thing. So it increases over the summer even though the Baker community is gone."
On the contrary, many of the downtown businesses say without Baker they would not exist.
Martha Wright, owner of Whitney's Creative Hair Design, said without Baker, "(Baldwin City) would be a dead, dried up, little town."
Wright's father started the business in 1952 on Eighth Street, but built the current building, 702 High St., in 1966. Wright bought the store from her father in 1991.
"I don't think my father would have put a business in this town originally, which was a barber business, if Baker hadn't been here," Wright said. "He knew that was going to be bringing people into it."
It isn't just the students at Baker who make an impact on the local businesses. The dominant presence of Greek organizations on campus plays a role in the sales at the Baldwin City Market.
"House directors have an impact because they buy groceries for Greek organizations here," Greg Wessling, Baldwin City Market manager, said.
Many business owners believe the impact of Baker University could make or break a business. If Baker students, faculty and staff stopped shopping locally or if the university were to be completely eliminated from the picture, retailers would find it difficult to sustain business.
"It seems to me that definitely if Baker wasn't there, there would be no source for those local businesses to get any customers from," Wayenberg said.
While the residents of Baldwin City may be the backbone for the economic support of most businesses, if nothing else, the Baker community helps support and patronize the local businesses.
"My Baldwin customers are my bread and butter," Wright said, "but my Baker students keep me young and alive."
Coming next week: The real estate factor.