Sixth Street barricades to come down Friday evening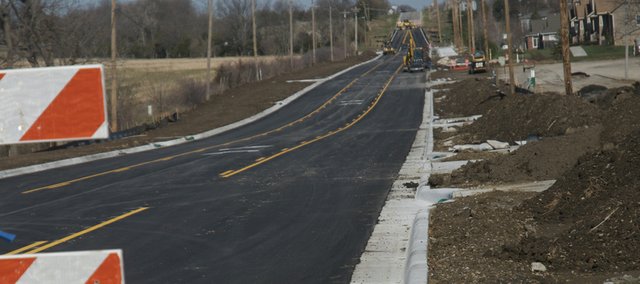 Baldwin City motorists frustrated with driving out-of-route gravel road miles to get to Lawrence will have an early reason to be thankful Friday with the removal of barriers on North Sixth Street.
Terese Gorman, engineering division manager for Douglas County Public Works, said North Sixth Street would be opened to traffic at 5 p.m. Friday with the removal of barriers on the street blocking access to the projects third and final phase. That phase improved the street from just north of the Annunciation Catholic Church driveway to Douglas County Route 12. The opening will mark the substantial completion of the project.
Keith Browning, Douglas County public works director, said work on the actual street was completed Friday and Saturday when contractor R.D. Johnson Construction took advantage of unseasonably mild weather to put the finishing final lift of asphalt on the project's entire length from U.S. Highway 56 to Douglas County Route 12.
"We jumped through a lot of hoops to get that final slip of asphalt applied," Browning said. "The contractor went to extraordinary means to accomplish that."
However, there are a handful of tasks still to be finished on phase 3, including seeding, mulching, fertilizing, the placement of permanent signs, some sidewalk installation and backfill for the sidewalk work. The final section could not be opened to traffic until road signs were in place and that had to wait until the sidewalk installation and backfill was finished, he said.
Gorman said some remaining work would require the posting of a 25 mph construction speed limit until the tasks were completed.
"There will be closed lanes as crews continue to work," she said. "But, it's now a three-lane road now, so there will be two-way traffic."
The county and Baldwin City split the cost of the $2.18 million project, which added a turn lane, curbs and guttering to North Sixth Street, which is also Douglas County Road 1055, from U.S. 56 to Douglas County Route 12. The city is spending another $185,000 to add sidewalks along the route.