Baker adds stablity to Baldwin City economy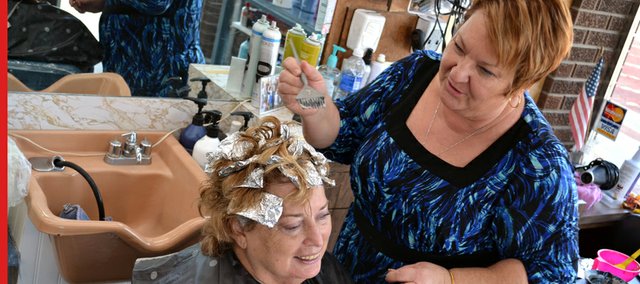 When a group of Methodist ministers settled in eastern Kansas in 1858, they had no idea how founding Baker University would influence the city that now surrounds it.
Although a number of Baldwin City businesses have closed in recent months, those that thrive are dependent on business generated by people affiliated with the university.
The College of Arts and Sciences' 936 students and 237 faculty and staff members, who earned more than $5.4 million in 2011, inject much of that payroll into Baldwin City's economy. Of employees, 124 live in town and many of the 121 students living off campus rent in Baldwin City. Students, faculty and staff members also add to the community economically through the city's 1.25 percent local sales tax.
Baldwin City Administrator Chris Lowe, who has served in the position since September 2011, said Baker provides more of a cultural than economic impact to the community. However, of the six local businesses interviewed, the percentage of profits related to customers affiliated with Baker ranged from 20 to 40 percent.
Martha Wright, owner of Whitney's Creative Hair Design, said her father brought the family-owned business to Baldwin City in 1952 because of the university, and today about 40 percent of her cliental are involved with Baker.
"I used to hear Dad talk about 'If Baker wasn't here, we wouldn't be here. It would not be a business. We couldn't make it,'" Wright said.
Wright is not alone in believing the Baker community has a large economic impact on Baldwin City. Chamber of Commerce President Greg Kruger said he could not fathom what the town would be like without Baker.
"Sometimes folks do not understand how much Baker does for our community," Kruger said. "They are kind of our silent partner and do quite a bit for us."
Although the majority of Baker students live on campus with meal plans, three of four students interviewed said they use Baldwin City services two to three times a week.
Senior Alex Graber, who goes to the Kwik Shop at least three times a week, said students are attracted to the business because of its hours and customer service.
"I have a great relationship with all of the people working there," Graber said. "And also the aspect of being open later than everywhere else in Baldwin because we always go in there so late."
While determining the exact economic impact of Baker on Baldwin City is difficult, the multiplier effect formula helps explain how a percentage of money spent at local businesses will stay within the community.
David Proctor, CEO of the Center for Engagement and Community Development at Kansas State University, said of every $100 spent locally, $45 remain in the community and circulate through the town. If $100 is spent in chain restaurants or stores, only $14 remains in the area.
Proctor said the effects of money circulation are more important in smaller towns, such as Baldwin City, because they rely on locally owned businesses.
Although students living on campus do not pay property taxes, 1.25 percent of every purchase made in Baldwin City is kept locally to improve general infrastructure and complete other improvements to the city.
In addition to students acting as patrons to area businesses, faculty and staff make a difference in Baldwin City's commerce as well. Baker is the second-largest employer in town, behind the Baldwin City school district, which helps contribute to Baker's economic impact on the town.
Lowe, the city administrator, said even though Baker would make a greater impact if more students were allowed to live off-campus, he is personally fond of Baker's rule to keep students on-campus.
"I think it's important that they stay and have that structure," Lowe said. "If somebody was building apartment complexes to house Baker students that would impact our tax roll. The question is how much of the problems associated with that type of growth are you willing to take on?"
However, Lowe added students living on-campus could slow down local businesses.
"It's kind of two sides to the same coin," Lowe said. "They don't cause us a lot of problems, but in some ways because of the meal plan and the way they are structured in terms of living on campus, I think that Baker kids tend to end up going to Lawrence when they really want to spend some money."
Lowe believes this problem is one of the largest challenges for the city.
"We need to foster business that will attract Baker students off of that campus," Lowe said. "Not that it's not a beautiful place to be, but I certainly don't want Baldwin City to always remain where they went to college … and the memories they created are in Lawrence on downtown (Massachusetts Street). If that's true for the next 10 years, we will have failed."
The city is working to draw students into local businesses and developing ways to promote residency in the town upon graduation.
Although Lowe believes warehouse jobs will not attract Baker students, he said some think this is the direction Baldwin City is headed with Edgerton as the site of the BNSF Intermodal Facility.
Kruger said the town's reliance on Baker is key because it makes the economy more stable than it would be if it were based around the success or failure of one industry.
Kruger said the university is not only beneficial to the Chamber of Commerce but the community as a whole because in its absence the population and number of services people enjoy would decrease.
'"Without Baker do we need that big of a grocery or do we need this many restaurants? I think a lot of the services would go away," Kruger said.