"

Anything Goes" a go for Baldwin High School performers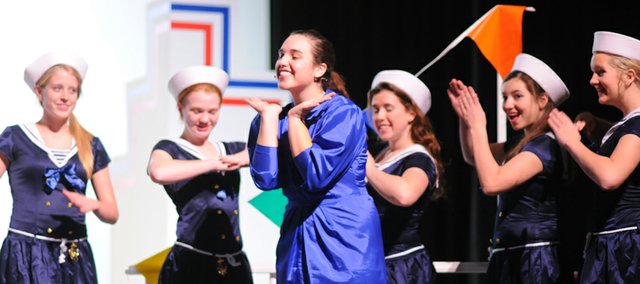 For Baldwin High School English teacher Kathy Cook, there's a simple reason to choose "Anything Goes" for the school's fall musical.
"Cole Porter," she said. "It's Cole Porter. You have great roles for males and females. It has great dance scenes and classic musical numbers."
Cook, stage director of the fall musical, said "Anything Goes" also appealed to her because of its large cast, which was expanded for the school's production.
Cole Porter wrote the now standards tunes "Anything Goes," "You're the Top" and "I Get a Kick Out of You" for the 1934 musical Russel Crouse and Howard Lindsay adapted from Guy Bolton and P.G. Wodehouse's book.
The plot concerns the quest of stowaway Billy Crocker (Tyler Cawley) to woe heiress Hope Harcourt (Madeline Miley) on an ocean liner bound to London from New York. He is helped or hindered in the that quest by such characters as his boss and Wall Street heavyweight Elisha J. Whitney (Ben Foster), public enemy No. 13 Moonface Martin (Ian Kirk) and his sidekick Bonnie (Cassidy Markley), Hope's mother Mrs. Wadworth T. Harcourt (Sammy Weiss), evangelist turned nightclub songstress Reno Sweeney (Regan LaTessa) and Hope's fiancé Sir Evelyn Oakley (Sam Huntington).
"It's fun," said junior Kirk of the musical and his role as Moonface Martin. "I get to have an accent.
"I get into quite a mess and get offended in the end."
LaTessa said she liked the song and dance numbers in "Anything Goes." The senior who has been in musicals all four of her high school years said each play was a new experience.
"We've got a lot of new people out this year, so the cast in different," she said. "I like working with my friends."
The musical will be performed at 7 p.m. Friday and Saturday at the Performing Arts Center at Baldwin Junior High School. Tickets are $5 for children and students and $6 for adults.