City to help make Festival of Lights more festive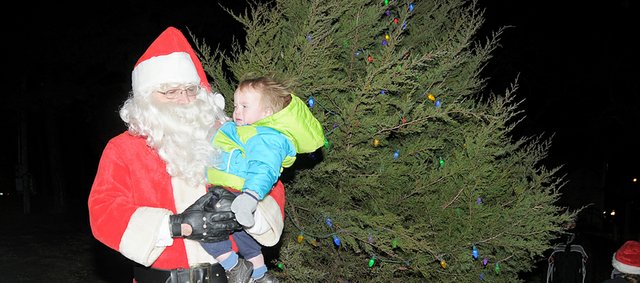 The Baldwin City Council agreed Monday to contribute up to $10,000 to make this year's Festival of Lights celebration more festive.
The council received a request last month from Festival of Lights Committee to help upgrade the annual downtown event that starts the local holiday season. This year's festival of lights will be Dec. 8.
The committee, which is a subcommittee of the Baldwin City Recreation Committee, was looking for help upgrading the community Christmas tree and downtown lights.
At the earlier meeting, the council was told the committee was requesting an artificial tree, which could be reused annually, and strings of lights to set off downtown businesses.
Lowe recommended Monday the council pass on an artificial tree because of storage concerns and instead buy a high-quality natural tree. The city administrator also proposed the city buy lights to outline the fronts of all downtown businesses. Both purchase could be made for less than $10,000, he said.
The council authorized spending up to that amount for the tree and lights on a 5-0 vote.
The LED lights would be installed before the Festival of Lights and be left up all year to spare them the wear and tear of multiple installations and removals and save the city that expense, Lowe said.
Downtown businesses will pay for the power to the lights, Lowe said. There was no objection to that, but two businesses did pass because they didn't want city employees on their roofs, he said.
The expenditure was in line with one of the goals in the council's recently completed 2020 visioning effort, Lowe said.
"The plan was to develop one destination event to create momentum downtown," he said. "This will expand what was already a good event."
In other business, the council:
• Approved on first reading an ordinance that would prohibit parking on either side of Eisenhower Street north of Ames Street.
• Heard comments from Delbert Sheldon, questioning costs associated with North Sixth Street sewer benefit district. Lowe said all the expenditures on the project were not yet finalized. The cost of the sewer district improvements would be rolled into a larger bond issue to decrease interest costs, and the 10 property owners in the benefit district would not be asked to pay their assessments until next year and possibly 2014, he said.
• Learned that the city's updated city website — www.baldwincity.org — is operational and includes a link that allows online utility bill payments.