Baldwin High School football coach 'big kid' who hates to lose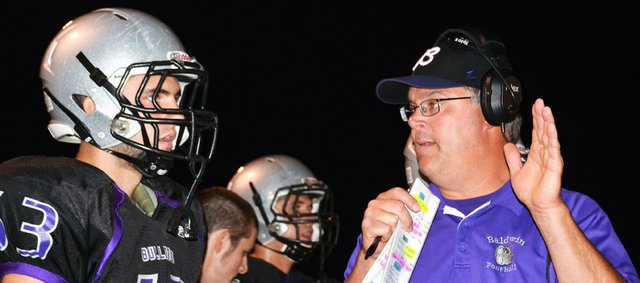 Mike Berg and football may be synonymous, but for Baldwin High School's football coach, it is not the entire story.
Berg, now currently in his 15th season of coaching the Bulldogs, has a career record of 90-56. He brings a dynamic style of coaching to the program. His philosophy for coaching is simple: If his players are able to do the little things right, then the rest will fall together. As long as the players show up with a good attitude and a willingness to learn, Berg will be happy.
He coaches because he simply loves the game and what it can do for everyone.
"Football is a lot like the game of life," Berg said. "When you get knocked down, you have to pick yourself back up and try again."
Before coaching at Baldwin High, Berg played football at Baker University, joining the Wildcat coaching staff for three years after graduation.
Berg grew up in the small town of Concordia, Mo., where he and his family lived in one of his fathers's three funeral homes. Growing up, Berg wanted to follow in his father's footsteps and become funeral director and a mortician.
"I wanted to go into the funeral business but my dad talked me out of it. He was always on call," Berg said. "He would be in the middle of our basketball game or football game and would get a call and have to leave. He would work all night and said it was tough on being a dad."
At age 18, Berg headed to Baldwin City to attend Baker, where he played football all four years under legendary Baker head football coach Charlie Richard. Berg received All-America honors as a center on the offensive line under former Baker coach Dan Harris.
Harris said Berg was very good at blocking and snapping the ball.
"Mike's talent and ability to make adjustments made it easy," Harris said.
Berg's claim to fame is he played with Mike McCarthy, the current head coach of the NFL team the Green Bay Packers.
When he was not playing football or in the classroom, Berg was busy meeting new people and enjoying his college years. One of those people would be a Baker coed who would become his wife.
Over the years in Baldwin, Berg has made many friends who have grown to really enjoy his company off of the football field.
Among them, there is a general consensus that Berg is a big kid. Berg believes it is important to bring his playful personality to the football field.
"I can't wait for the first rainy practice of the season. We have a mud pit where when it rains we go mud sliding. We all do it, even the coaches," Berg said. "If we aren't out here having fun, then there is no reason to be out here."
Rick Weaver, former Baker men's basketball head coach and friend of Berg, believes that Berg does a good job of finding the fine line between maintaining a fun yet productive environment for the players.
"We've coached youth basketball, football, and baseball programs together and he knows how to have fun and teach at the same time," Weaver said.
Even so, Berg admits that he does not like to lose.
"I am a very competitive person and like to be on the winning side of things. I don't know where I got that instilled in me," Berg said.
Matt and Terry Twombly, Berg's neighbors, said that during their annual neighborhood water fight, Berg will bend the rules a bit so his team can win.
"Mike will cheat in the water fight. He will stand on his lawn and use the hose, which is against the rules," Terry Twombly said.
Despite his competitive nature, Berg always keeps a positive attitude, which is a testament to his personality.
"Mike is a great competitor, but he is also the same person win or lose," Weaver said. "He has had teams at both ends of the spectrum at Baldwin and he always put the kids first."
Berg's longtime friend, Baldwin High Athletic Director Gary Stevanus, said Berg will do anything for you.
"Mike is the best guy in the world. He is a big kid and young at heart," Stevanus said. "When he comes over to my house, he never hesitates to wrestle and play with my two kids."
Berg's son Drew remembers not only playing with his siblings as a kid, but with his father as well.
"When I was like 4 or 5, I remember my friends would come over and ask if my dad could come out and play," Berg said. "He would pick on them and he was just a big kid and everybody enjoyed his company."
Berg's son also said that the one thing that he always knows about his dad is that his father is always there for him.
"He really never says no to anyone. He always helps people and will go out of his way to do so. I know that if I ever need help, I can always go and talk to him," Berg said.
This reliability and affinity for fun are what make Berg who he is on and off the field.