Baker student presenting spoof of Robin Hood legend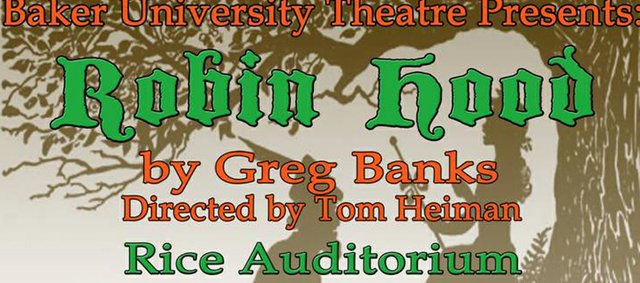 Baker University's production of "Robin Hood" isn't typical.
From ad-libbing lines to audience participation, it won't follow the rules of the traditional play.
"This is a bit like 'Robin Hood: Men in Tights' meets '(Robin Hood Daffy),'" director Tom Heiman said. "It's Robin Hood with glitches along the way."
Play cast members have been rehearsing and preparing for four weeks.
The play was originally produced with four actors playing 18 roles, but after auditions for the parts, Heiman decided there were eight strong actors, and he wanted to work with all of them.
Once he chose who would be in the play, the actors read lines for multiple characters, trying different parts until Heiman decided who would have the most fun with which characters.
The play isn't the traditional "Robin Hood" script. It begins with a traveling group who comes to do a show of "Robin Hood," but the cast is not ready to perform, so it begins to make up lines and acts as it goes.
"This version just leapt off the page as something we could be creative with," Heiman said.
Heiman told actors to basically do whatever they wanted to with their character, to experiment and to find what works best.
"We've done a lot of ad-libs, and I've had more actors look at me and say, 'You want me to do what?'" Heiman said.
Although the purpose of the show is to allow the actors to channel their inner creativity, Heiman said sometimes it was difficult to "tame the beast," and the cast would have to remember to pull themselves back and put the show together.
The show lasts about one hour, and Heiman says it is great for children. The script is family-friendly, with audience participation. Guests are asked to cheer for the heroes, boo for the bad guys and be involved.
"It should be a ton of fun and lots of cheering," Heiman said.
Robin Hood will be performed at 7:30 p.m. Friday and Saturday and 2 p.m. Sunday in Rice Auditorium. The show is free and open to the public.