Baldwin City polling sites report busy morning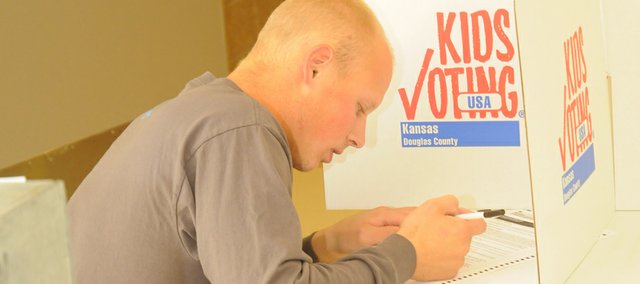 Andrew Taliaferro found the Kids Voting stations at Baldwin Junior High School convenient Tuesday.
With all the regular voting booths filled, Taliaferro, a Baker University senior, filled out his ballot knelling at one of the four stations set up for junior high students.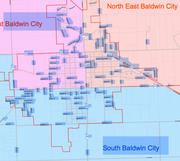 Poll workers at all three Baldwin polling sites said they were busy Tuesday morning as those in the Baldwin City community went to the polls to help decide, among other things, who will occupy the White House the next four years, and who will represent the city in the U.S. Congress, the Kansas Legislature and on the Douglas County Commission.
Supervisors at all three polling sites reported all was going smoothly and more than 200 voters had filled out ballots before 11 a.m.
"It's been busy," said Dorothy Martin, supervisor at the Precinct 61 polling site at Baldwin Junior High School. "That's good. It makes time go faster."
As of 11 a.m., 267 of the about 1,500 register voters in the precinct had filled out ballots, Martin said. Supervisors at the city's other two polling sites reported similar numbers. Ertie Evangelista, Precinct 62 supervision at the Baldwin City American Legion site, said 279 ballots had be filled as of 10:30 a.m. The precinct had about 1,200 registered voters, she said.
Sue Coon, supervisor of Precinct 63 at the Baldwin City Fire Department reported 204 of the 1,181 registered voters in that precinct had voted as of 10 a.m.
The polls will remain open until 7 p.m.
Precinct 62 of Baldwin City south of High Street (in blue on the map) votes at the American Legion Building.
The polling site for Precinct 63 of Baldwin City northwest of the intersection of Sixth and High streets (in pink on the map) votes at the Baldwin City Fire Department.
Those living in Precinct 61 of that part of Baldwin City northeast of the Sixth and High street intersection votes at Baldwin Junior High School.